I resigned because of SRC account issues - Tan Sri Ismee

Last Update: 10/06/2019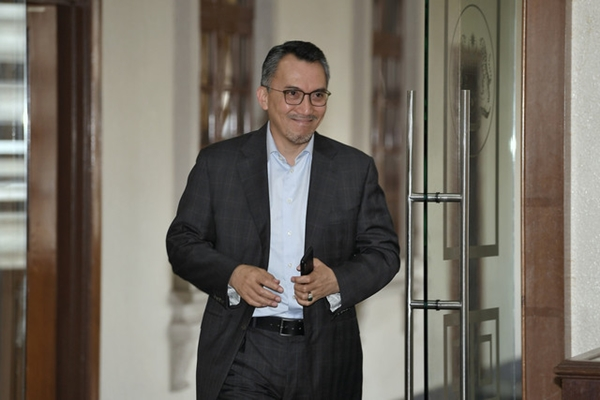 KUALA LUMPUR, June 10 (Bernama) -- Tan Sri Ismee Ismail, the former board member of SRC International Sdn Bhd today said that the reason he resigned from the company was because of the issues arising from the resolution to approve the unaudited SRC's account for 2013.
Ismee, 54, who was also a former 1Malaysia Development Berhad (1MDB) non-executive director, said that during the examination-in-chief by deputy public prosecutor Datuk Ishak Mohd Yusoff on the 21st day of the trial of Datuk Seri Najib Tun Razak's graft case at the High Court here today.
The former prime minister is accused of misappropriating RM42 million belonging to SRC International.
Ishak: Can you tell us the reason you resigned?
"Ismee: I resigned because of the issues related to SRC audited account for 2013. The management of SRC had earlier requested for the board members to sign a resolution to approve audited account for the year 2013.
But, later we found out that the audited account, which we approved, was not audited yet. I was made aware of the account by a newspaper report which stated that the SRC did not open an account with the Companies Commission Malaysia (CCM).
Because of that, as a chairman (of the SRC board meeting), I made sure that the account was closed, and after the account was closed, I decided to resign.
Ishak: Who was the management of SRC?
Ismee: The CEO Nik Faisal Ariff Kamil.
When asked by Ishak to read a document titled 'Non-filing of audited financial statements of March 31, 2013," Ismee among others said that "the board has expressed disappointment of the non-filing of the audited financial statements...En Nik Faisal apologised for misleading the board...and the company secretary Terence Goh has expressed regret for not updating the board."
Asked whether or not he knew about the action taken by Nik Faisal to correct the non-filing of audited financial statement, the witness said after he resigned, he was informed that Nik Faisal had been replaced by someone known as 'Datuk Azhar'.
Ismee said he wanted to resign since May 2014 but his resignation only took effect on Aug 15, 2014.
To a question on the second SRC loan of RM2 billion, the witness said in reference to the SRC board meeting minutes dated Dec 20, 2012, it was also signed by the then Minister of Finance Incorporated Datuk Seri Najib Tun Razak.
Najib, 66, faces three counts of criminal breach of trust, one charge of power abuse and three counts of money laundering involving SRC International Sdn Bhd funds totaling RM42 million.
The trial before Judge Mohd Nazlan Mohd Ghazali continues tomorrow.
-- BERNAMA