Kelantan RTD records 1,125 offences committed by motorists in 'Op HRA 2019'

Last Update: 14/06/2019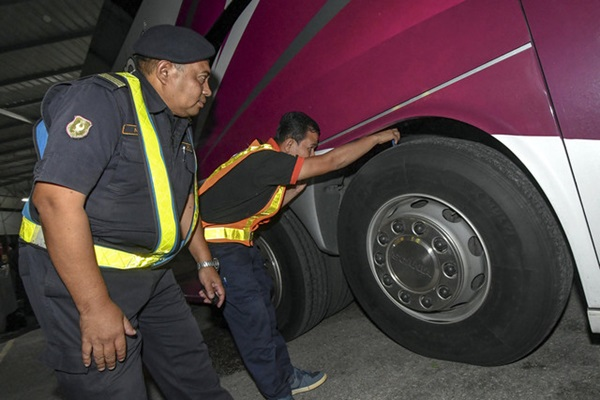 KOTA BHARU, June 14 (Bernama) -- The Kelantan Road Transport Department (RTD) has recorded a total of 1,125 cases involving various traffic offences during the two-week 'Op Hari Raya Aidilfitri (HRA) 2019' held from May 29.
Its director Mahasan Mustapha said for the two-week period, his department inspected 5,020 vehicles compared to last year where only 4,800 vehicles were inspected.
"This year's operations were more focused on express buses as well as driving licences and expired road tax," he said.
He was speaking to reporters after the advocacy programme, organised in collaboration with Konsortium E-Mutiara Berhad, Ekspres Perdana and National Anti-drug Agency (AADK) at Lembah Sireh Bus Terminal, Kota Bharu here last night.
Mahasan said the highest number of offences involving expired road tax at 444 cases and driving without valid licences at 335 cases.
He said his department also conducted inspections at bus terminal and depots and four cases were recorded from 324 buses inspected.
"We believe the management of express buses have taken a good step in terms of care and maintenance of the bus as there is a drop in number of offences this year compared to six offences recorded from the 290 buses inspected last year.
In terms of undercover, there were 10 undercover operations carried out on express buses as well as at the accident-prone areas, he said.
"During our undercover assignments, we recorded three drivers committed offences by overtaking on double lines apart from using a mobile phone while driving.
For the record, during the 'Op HRA 2019' in Kelantan, 21 accidents were recorded and out of the total six cases involved fatal accidents.
-- BERNAMA