Langkawi, Satun sign MoU on Transnational UNESCO Global Geopark Partnership

Last Update: 14/06/2019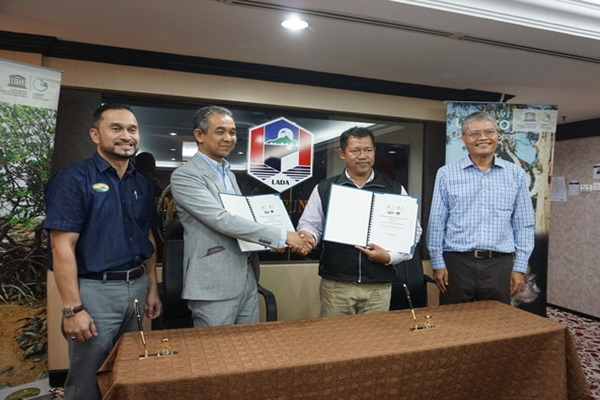 LANGKAWI, June 14 (Bernama) -- The Langkawi UNESCO Global Geopark and Satun UNESCO Global Geopark today signed a memorandum of understanding (MoU) on Transnational UNESCO Global Geopark Partnership to enhance their relationship and collaboration in the area of science and management.
Langkawi UNESCO Global Geopark Coordination Committee chairman Dr Hezri Adnan said for the scientific collaboration, it would be between scientific fraternities from both countries.
"The MoU will also include informing the geopark contents development in Satun side and then that will be coupled with our own scientific committee which is now headed by Universiti Kebangsaan Malaysia (UKM) and also comprises with numbers of universities here in Malaysia," he said at the signing ceremony here.
The MoU was signed by Hezri and Satun UNESCO Global Geopark vice-director Asst Prof Dr Pongsak Thongnueakhaeng.
It was witnessed by LADA Geopark Division manager Azmil Munif Mohd Bokhari.
Hezri, who is also LADA CEO, said through the MoU, Langkawi would be the first global geopark in Malaysia and in Southeast Asia to share its managerial experience with Satun which had just gained the status last year.
-- BERNAMA