Penang Customs seizes smuggled cigarettes worth RM2.6 mln

Last Update: 14/06/2019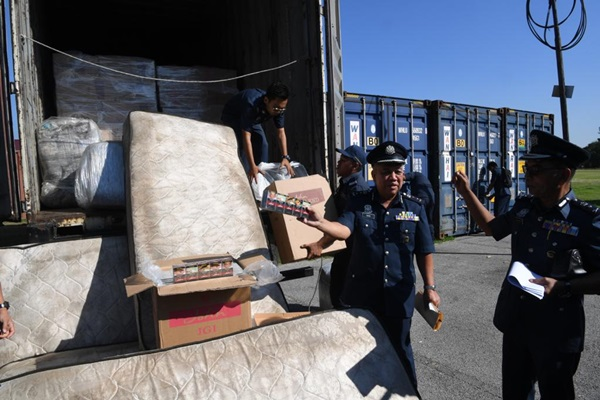 BUTTERWORTH, June 14 (Bernama) -- The Penang branch of the Royal Malaysian Customs Department has seized more than three million sticks of white and 'kretek' (clove) cigarettes worth about RM2.6 million, including tax, in two separate raids carried out yesterday and Tuesday.
Its director Datuk Saidi Ismail said in yesterday's raid at KM267 along the North-North Expressway in Jelapang, Perak, the enforcement team inspected a 10-tonne lorry and seized three million cigarette sticks.
"Acting on information and intelligence, we inspected the lorry driven by a 40 year-old man and seized all smuggled cigarettes worth RM2.24 million hidden behind old mattresses," he said in a press conference here today.
He said based on the investigation, the smuggled cigarettes were brought in by a syndicate from a neighbouring country through the southern state before heading to the north for sale around the region here.
Meanwhile, at 9.15am on Tuesday, the department raided a premises at Jalan Batu Maung and seized 708,000 cigarettes sticks estimated to be worth of RM379,000 including tax.
He said early investigations found that smuggling syndicates used the premises as a warehouse for storing cigarettes smuggled from neighbouring country before they were distributed and sold around the state in the last few months.
The two cases were investigated under Section 135 (1) (e) of the Customs Act 1967 for transporting contraband goods, he said.
Meanwhile, in another development, Saidi said the Customs department seized six containers of rubberwood sawn timber worth RM343,000 including tax, for export to China at the North Butterworth Container Terminal (NBCT) here on May 29.
He said inspection carried out by the Malaysian Timber Industry Board (MTIB) found that the timber meant for the local furniture industry.
MTIB Enforcement and Licensing Division director Zulkepli Abdul Rani, who also attended the press conference, said that the company's attempt to export rubberwood sawn timber would result in the shortage of supply of the material in the country.
-- BERNAMA