Tragedy strikes while victims were going for engagement ceremony

Last Update: 16/06/2019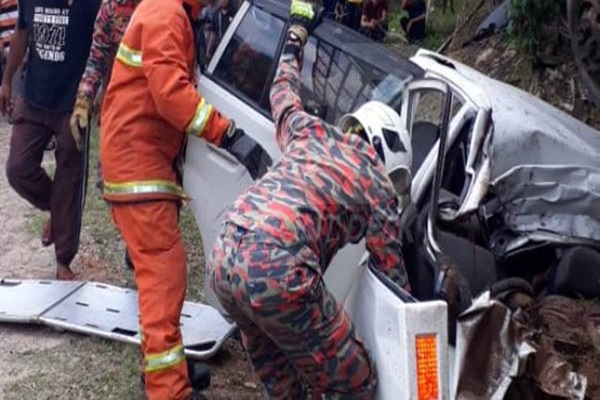 TEMERLOH, June 16 (Bernama) -- The four family members who died near Bukit Mendi in Bera today were said to be going to Serting, Negeri Sembilan to attend a relative's engagement ceremony.
The husband of Siti Zubaidah Abidin, Kamarulzaman Khamis, 45, said the deceased and their youngest son, Aqil Zikri Shah, 6, were taking a lift in his younger brother-in-law's car as they wanted to arrive at the event earlier.
"I should have followed later as I had to settle some work beforehand...but at almost 2pm, I received a call from a family member informing me of the tragedy.
"The challenge that I had to face in the month of Syawal this year was really great, but I accept the fate that I had to lose my wife and son simultaneously," he said when met by reporters at the Forensic Unit of Hospital Sultan Haji Ahmad Shah (HOSHAS), here today.
In the incident at 1.35 pm today, Siti Zubaidah and Aqil Zikri Shah were among the four who died after the Perodua Viva car they were travelling in was involved in an accident with an empty trailer lorry and a three-ton lorry.
Also killed were Siti Zubaidah's younger sister, Siti Rahmah, 33, and her husband Nor Amri Mohd Ali, 35, who was driving, while Siti Zubaidah's and Siti Rahmah's younger sister-in-law Nor Shuhada Shukri, 29, sustained severe head injury and was still being treated at HOSHAS.
The accident at Kilometer 51, Temerloh-Kemasul Road was believed to have occurred when the empty trailer driven by a 39-year-old man skidded and hit the lorry from the opposite direction before hitting the victim's car which was behind.
Kamarulzaman, who is self-employed, said all the victims would be buried at the Felda Bukit Puchong burial ground in Triang, Bera as soon as the autopsy had been completed.
Meanwhile, Siti Zubaidah's neice, Syakila Isa said they began to gather at the house of their grandmother in the Felda scheme since Friday in conjunction with Aidilfitri and to be together in a convoy to Serting.
"We travelled in a convoy of two cars, but the car carrying Mak Cik Siti (Siti Zubaidah) left five minutes earlier and we were shocked to to see their car trapped under the trailer when we arrived at the location,"she said.
-- BERNAMA