Terengganu tightens enforcement at drawbridge

Last Update: 17/06/2019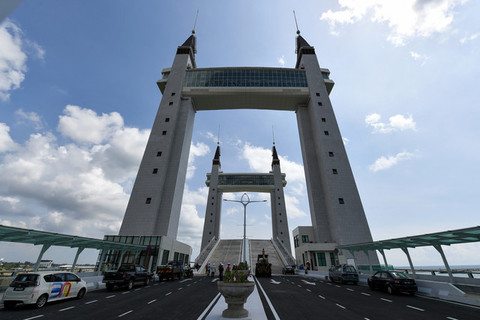 KUALA TERENGGANU, June 17 (Bernama) -- Stricter action will be taken against members of the public who fail to adhere to safety aspects and traffic rules along the route to Terengganu's iconic drawbridge after it is officially opened to the public.
Menteri Besar Dr Ahmad Samsuri Mokhtar said this include enforcement against road users who park along restricted areas.
"During the trial period (June 2 to yesterday), we see many things that need to be improved, including a suitable place for the public to stop and take pictures and video recordings safely.
"However, the habit of certain road users who purposely park their vehicles on bicycle lanes although there are parking bays nearby, will not be tolerated," he said.
Road users have been found to purposely park their vehicles on bicycle lanes at Jalan Pantai Seberang Takir in Kuala Nerus and this was feared to damage the grass planted on the lanes.
Ahmad Samsuri said the improvements would be done during the closure of the drawbridge starting today.
"The bridge will be launched officially as soon as possible. Even this morning, I received reports that there was congestion along Jambatan Sultan Mahmud. This showed that the importance of this drawbridge in reducing traffic congestion in this city," he said.
The RM248 million bridge is the fourth bridge connecting Kuala Terengganu and Kuala Nerus after Jambatan Sultan Mahmud, Jambatan Pulau Rusa and Jambatan Pulau Sekati.
-- BERNAMA