Sultan of Kedah attends RMR 6th battalion Aidilfitri event

Last Update: 18/06/2019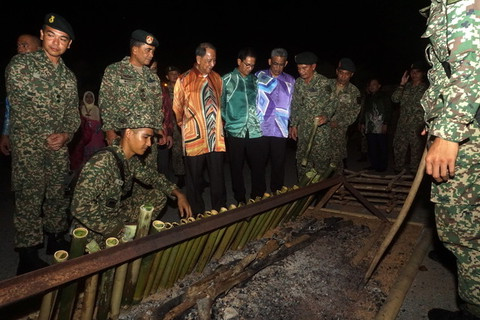 JITRA, June 17 (Bernama) -- The Sultan of Kedah, Sultan Sallehuddin Ibni Almarhum Sultan Badlishah attended an Aidilfitri open house celebration at the the Malay Regiment 6th Battalion's Sultan Abdul Halim Mu'adzam Shah Camp here tonight.
Army Field Commander (West), Lt Gen Datuk Azizan Md Delin, from the Royal Malay Regiment was present to greet His Majesty's arrival at 8.30pm.
Also in attendance was the Raja Muda of Kedah, Tengku Sarafudin Badlishah Sultan Sallehuddin.
State Health, Rural Development, Religion and State-Linked Companies committee chairman Datuk Dr Ismail Salleh, representing Kedah Menteri Besar, Datuk Seri Mukhriz Tun Dr Mahathir, was also present, as were some 1,000 officers and personnel who were all entertained to Hari Raya tunes as part of the celebrations.
Guests were treated to Hari Raya delicacies such as ketupat, laksa, soto, rojak, lemang, nasi hujan panas, rendang and Raya cakes.
During the event, Sultan Sallehuddin mingled with guests before being briefed and presented with visuals of how our servicemen celebrated their Aidilfitri while on duty as well as a Raya video greeting by them.
Sultan Sallehuddin was then presented with a souvenir before leaving the event.
-- BERNAMA