Suresh targets gold at 2020 Tokyo Paralympic Games

Last Update: 19/06/2019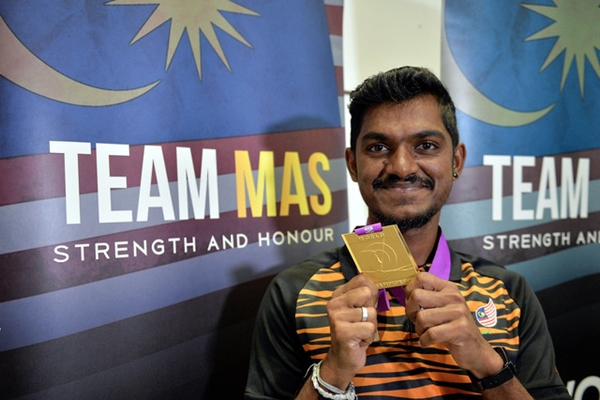 ALOR SETAR, June 19 (Bernama) -- After winning the championship at the 2019 World Para Archery Championship at Hertogenbosch, Netherlands recently, national recurve athlete, S. Suresh targets a gold medal at the 2020 Tokyo Paralympic Games.
The 26-year-old archer said, although his training programme had not started yet, he was already prepared to undergo training to gird himself to face great archers, among others, from South Korea, Iran and the United States.
''This is the first time I win a gold medal which simultaneously enables me to win a slot to Tokyo, after taking part in many championships. So, I am targeting a gold medal for my participation next year to bring glory to Kedah and Malaysia.
''For now, we don't know the training programme yet because the coach will discuss with his higher-ups first. I hope I can help boost the sport of archery to a higher level and attract the interest of other people,'' he told reporters here today.
Earlier, Suresh, who is from Kuala Ketil, Kedah, received a RM5,000 incentive from Menteri Besar Datuk Seri Mukhriz Tun Mahathir at Wisma Darul Iman here which was also attended by his parents, Selvathamby Mudiady and, Dewani Chandran.
Meanwhile, in KUALA LUMPUR, national shooting squad assistant coach, Baharudin Hashim believed the nation squad was on the best platform to bring home at least two gold medals from the Philippines SEA Games.
Baharudin, who took over the duty of coach Sabki Din early this year, revealed that the squad would be banking on Jonathan Wong Guanjie and Ezuan Nasir Khan who exhibited excellent performances in several international championships prior to this.
He also divulged that three countries, namely, Thailand, Singapore and Vietnam would be Malaysia's main challengers for a better medal collection this time.
''We are focusing on the air rifle and air pistol events because they are medal prospects for us at the SEA Games.
''We are depending on Jonathan as he had beaten the gold medal winner at the 2016 Rio Olympic Games, Hoang Xuan Vinh from Vietnam, prior to this,'' he told Bernama after a visit by Malaysian 2019 SEA Games contingent head, Datuk Megat Zulkarnain Omardin to the national shooting squad at the National Sports Council's shooting range here today.
-- BERNAMA