Fig nasi lemak, the latest hit in Janda Baik

Last Update: 20/06/2019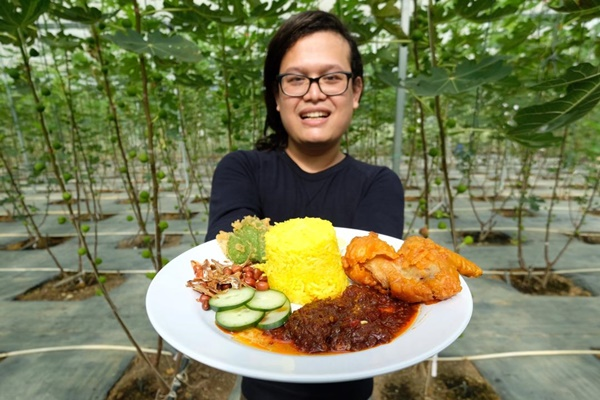 BENTONG, June 20 (Bernama) -- If Cameron Highlands is known for its 'strawberry nasi lemak', Janda Baik here has its own 'fig nasi lemak' inspired from its new agricultural product.
The recipe for nasi lemak with 'sambal tumis' cooked with figs is the brainchild of Faiz Farhan Yahya, 28, who took months to experiment to get the "taste that meets the Malaysian standard".
Faiz Farhan, who graduated from the Food Institute of Malaysia in pastry, said his family members and close friends were the greatest critics as he sought the right flavour.
"The 'sambal tumis' cooked with figs is truly special because it is a balanced taste that is spicy, yet you can still taste the fruit but not too strong which could drown the original taste of 'sambal tumis'.
"Its preparation requires patience as it takes 12 hours to cook it over low heat and must be stirred every half hour," he told Bernama when met at the fig farm, Benefigs, in Janda Baik.
"The long time taken to cook the 'sambal' is to ensure the taste of the fruit is well-blended, besides applying the old folk's tip that the 'sambal' tastes better if cooked long," he added.
Faiz Farhan said aside from figs, other ingredients used were red onions, garlic, chilli and "some secret ingredients" to produce his own original recipe.
"My hope is this fig nasi lemak will be a must-try dish for those visiting Janda Baik. It is also a diversification of the fruit, which is usually eaten fresh or dried.
"Why nasi lemak? Obviously because nasi lemak is Malaysians' favourite dish and can be eaten at any time," he said, adding that he was also working on a home-based food business in Kelana Jaya, Selangor.
Faiz Farhan said the idea of using figs was also inspired by the experience of spending time at the fig farm of his friend, Mohamad Hafidz Arifin, 33, a strong supporter of his efforts.
Asked on the price, Faiz admitted that he was still looking for a formula to reduce the price, as the fig nasi lemak was selling at RM9.50 to RM10.90 for the time being, as the fig fruit was quite pricey.
-- BERNAMA