Man caught rummaging through government office in Sandakan

Last Update: 20/06/2019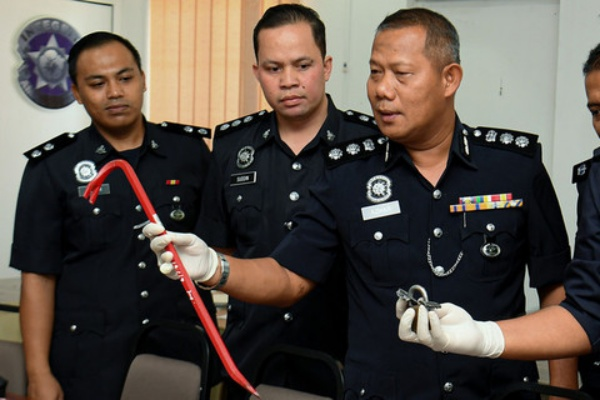 SANDAKAN, June 20 (Bernama) -- A local man was arrested by police while rummaging through a government office here around midnight last night.
District Police Chief ACP Mohd Azhar Hamin said the police received a report from members of the public regarding the break-in at the Statistical Department in Batu 7 here.
"The suspect aged 25 years is from Kampung Likas, Kota Kinabalu and is wanted by another police district (Beaufort) to assist investigation on several house breaking cases.
"Further investigation also found that the suspect has previous criminal records in several theft, break-in and drug offences in Kota Kinabalu," he told a media conference here today.
Mohd Azhar said at the time of arrest, the suspect tested positive for drugs.
Regarding crime rate in Sandakan throughout last month up to mid this month, he said the police solved 10 various crime cases involving some RM10,000 with seizures amounting to RM9,200.
Mohd Azhar also said the police arrested 65 illegal immigrants aged between 17 and 65 years old in an operation early this morning.
As for Ops Selamat which was held between May 29 and June 12, Mohd Azhar said Sandakan recorded a decline in road accident cases with 101 cases compared to 104 cases during previous operations.
In another development, he said the police arrested 35 local and 19 foreign individuals aged between 20 and 54 in Op Sarang conducted from May 1 to yesterday.
He said among those arrested were three individuals for drug pushing offences, seven individuals for possessing drugs and the rest for being positive of drugs.
Also seized were a total of 18 grammes of syabu valued at RM2,700.
He also said that the Sandakan police had conducted 44 series of Op Tapis in the same period and arrested 144 people for various drug offences.
-- BERNAMA