Pak Wan seeks fifth MBOR cycling record

Last Update: 22/06/2019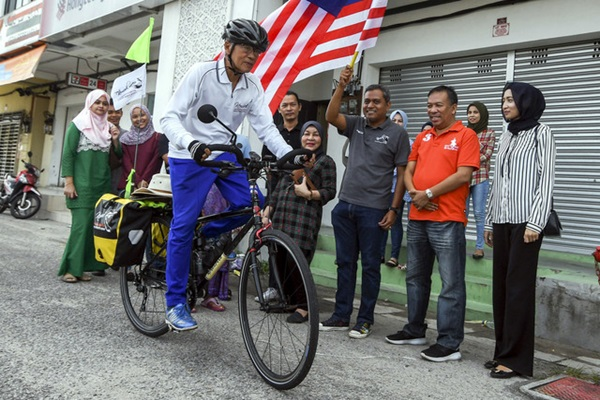 KOTA BHARU, June 22 (Bernama) -- Senior citizen cyclist, Wan Hashim Wan Mahmood, 73, today begins his mission to create his fifth personal record in the Malaysia Books Of Records (MBOR).
Wan Hashim, or Pak Wan, said his effort this time would be quite different and truly challenge his capability because he intended to cycle 2,200 kilometres (km) around peninsula Malaysia and southern Thailand in 15 days.
"Prior to this, Pak Wan took at least a month to end a mission of the same distance. But to create the fifth MBOR record, I have to do it in 15 days," he told reporters at the launching of his attempt in the compounds of the Kelantan Utusan Malaysia Bureau here today.
The launching was performed by the Kelantan Darul Naim Media Club president Azran Fitri Abd Rahim and Kelantan Bernama Bureau chief Zabidi Ishar.
He said that he would cycle from Kota Bharu to Pengkalan Kubor, Tumpat before going to Takbai,Thailand and subsequently to Padang Besar, Perlis. From Padang Besar, he would cycle through peninsula Malaysia and end back in Kelantan on July 10.
-- BERNAMA