Young mother blends family chores with welding business

Last Update: 23/06/2019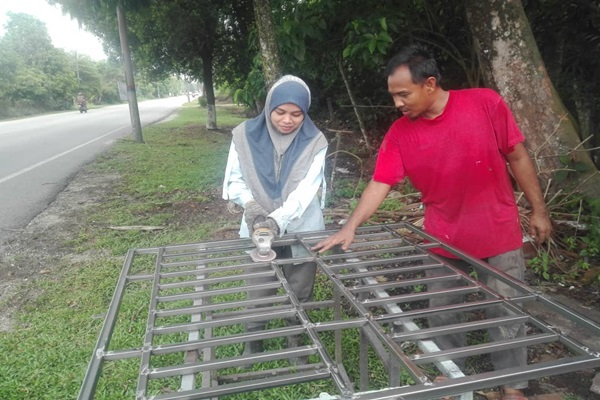 BACHOK, June 23 (Bernama) -- After spending some time watching her husband welds grill and the metal products, Balqis Ismail, 26, has acquired the skills to become a capable assistant to her husband.
The young mother and her husband, Mohd Rizal Mohamad, 38, work together in their welding workshop, Ja Welding Tepus, located in front of their home to meet various orders.
"I like to observe my husband doing his daily work even though initially, I felt it was impossible to understand the men's job but after a while, I became interested.
"If I'm not mistaken it's been seven years, since we were married and I can now weld various products with my husband's guidance," she told Bernama when met at her residence at Kampung Tepus, Gunong here recently.
She also takes care of their three children, Muhammad Rayyan, 6, Muhammad Rifqi, 4, and Muhammad Rafa, five months, as well as five 'Charolais' cows, and in the evening, she runs a burger stall until midnight.
Balqis said she would always give priority to care for her young children, cooking and completing the household chores before starting work at the workshop.
"In the morning, I will bring the cows to graze in field at the back of the house before returning home to complete house chores like sweeping, washing clothes and cooking.
"When the children are taking their nap, I would go to work at the workshop. Later when they wake up, they know not to disturb my husband and I who are working.
"At first I learn the basics like cutting iron, welding and grinding. After polishing the product I would spray paint to make it look more presentable and I would also tag along to watch my husband installed the final product at the customer's house," she said.
Meanwhile, her husband, Mohd Rizal, who graduated from Ipoh Industrial Training Institute in welding, confessed that he was impressed with her spirit to learn and practise what is generally a man's job.
-- BERNAMA