Two 'Geng Ben Tuck' members nabbed, pistol, bullets seized

Last Update: 25/06/2019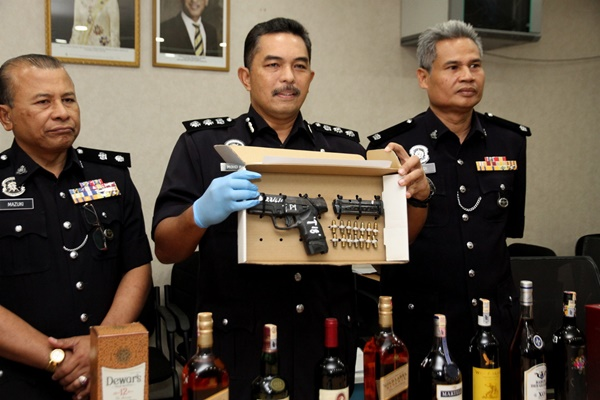 IPOH, June 25 (Bernama) -- Police have crippled an armed robbery gang known as "Geng Ben Tuck" with the arrest of two men at a condominium in Pasir puteh here.
Ipoh district police chief ACP Mohd Ali Tamby said the two suspects, aged 39 and 45, were arrested about 3.35 pm last Saturday in connection with an armed robbery on June 3 at a house in Taman Pengkalan Putri, Pasir Puteh.
The victim claimed to have lost RM450,000, including cash of RM61,000, jewellery worth RM70,000, 10 bottles of alcoholic drinks worth RM10,000 and a multi-purpose vehicle, he said in a statement here today.
Mohd Ali said police seized from the condominium a magazine containing 14 rounds of ammunition, two MPVs, six handphones, 10 bottles of liquor and a Yamaha Ego motorcycle.
"The police also seized a Steyr Mannlicher pistol," he added.
Mohd Ali said the 45-year-old suspect, who works as a despatch rider, had criminal records, including for gambling and drug-related offences, while the second suspect, who is a trader, also had a previous case.
Both of them tested positive for drugs, he said, adding that they have been remanded until Friday for investigation.
-- BERNAMA