Landslide - two bodies found by midnight

Last Update: 26/06/2019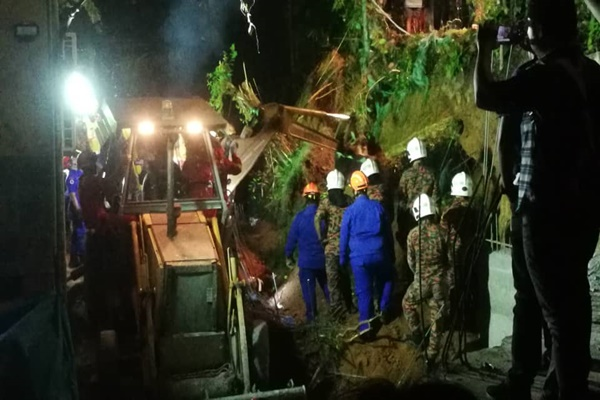 GEORGE TOWN, June 25 (Bernama) -- Until midnight, two bodies were found at the retaining wall construction site landslide in Batu Feringghi here.
Northeast District Police chief ACP Che Zaimani Che Awang said the first body was found at about 11.15 pm while the second body was found near the first victim at midnight.
"Efforts to extricate the bodies are in progress before being sent to the Penang Hospital for post-mortem," he said when met at the scene.
Other than the Fire and Rescue Department, the search and rescue operation for the four Myanmar nationals who were feared dead in the landslide incident at 9.25 pm on Tuesday, also involved the police and the Malaysian Civil Defence Force.
Che Zaimani told reporters that the owner of the Lost Paradise Resort, the location of the landslide incident, confirmed that there were soil movements on the side (bank) of the road since last week.
''The owner took the initiative to repair the retaining wall himself after becoming aware of the soil movement by hiring four Myanmar nationals,'' he said.
Earlier, Penang Fire and Rescue Department director, Saadon Mokhtar said that, based on information, the incident had taken place when the workers were carrying out the work in question in the area.
He said that the work to extricate the victims was divided into two sectors with the aid of an excavator to shift the soil.
He said that the SAR operation would be continued if the weather permitted and there was no more soil movement in the area.
As of midnight tonight, the weather at the location was reported to be good.
-- BERNAMA