Durian season gives Pendang villagers chance to generate more income

Last Update: 30/06/2019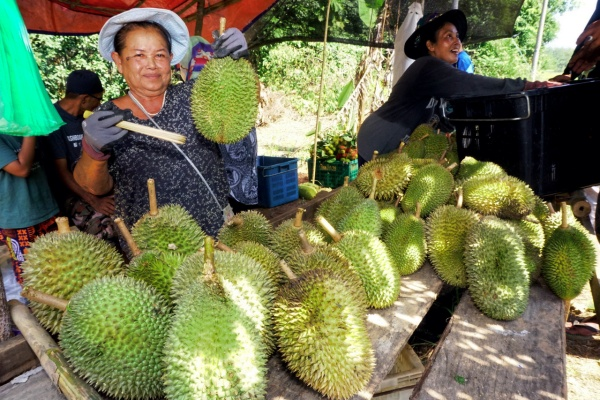 PENDANG, June 30 (Bernama) -- The durian season is here again... and while durian lovers rejoice, villagers in Pendang who are mostly rubber tappers, look forward to making a lucrative income by selling durians from their farms.
A check by Bernama at Kampung Titi Akar, Kampung Padang Durian and Kampung Cina at Padang Kerbau subdistrict here found 20 makeshift stalls have been erected along the Kuala Nerang-Sik main road since last week.
"We get to earn more just by selling durians. Instead of tapping rubber we can earn good income in just two months," said a durian seller from Kampung Padang Durian, Zainol Ariffin, 54, here today.
According to Zainol, each day he could sell about 500 kilogrammes of durians, worth about RM5,000 and the durians are gathered from his as well as neighbouring farms.
"Each time the durian season is here, durian lovers will come here because they have so many to choose from, the fruits are fresh and most importantly they are sold as cheap as RM5 per kilogramme (kg) for the homegrown durians," he said.
"The most favoured types of durians are the crossbreed varieties, Musang King and D24," he said adding that those who frequent the stalls came from Alor Setar, Pokok Sena, Yan and Kuala Nerang.
"A majority of the traders here are Siamese. They are a friendly lot and not particular about the price," said Zainol who had been selling durians for the past 20 years.
Meanwhile, another seller, Khuan a/l Keam, 54, said because of the encouraging response he sells the fruits directly instead of selling them to middlemen.
"When the harvest is good we will sell them to the middlemen but this year, as there are not much fruits to offer, we sell them ourselves. So for the time being we do not go out to tap rubber," said Khuan who has about 100 'kampung', D24 and Monh Tong durian trees at his farm.
Meanwhile, a customer Salmah Senik, 60, said each year she would not miss the chance to buy durians here because they are cheap and are sold at wholesale price if purchased in large quantities.
"The traders here are also very accommodating and you are assured of the quality as they are fresh from the farms," said Salmah who travels from Kuala Nerang to buy RM70 worth of durians on each shopping trip.
Another customer, Aziz Ishak, 50, from Kepala Batas near Jitra said that durians sold around this area are of much better quality and of various types.
"I enjoy shopping for durians here because we can get a good bargain and if I am lucky enough I can get them at RM3 per kg," he said.
-- BERNAMA