Terengganu FAMA to hold durian cheap sale in August

Last Update: 01/07/2019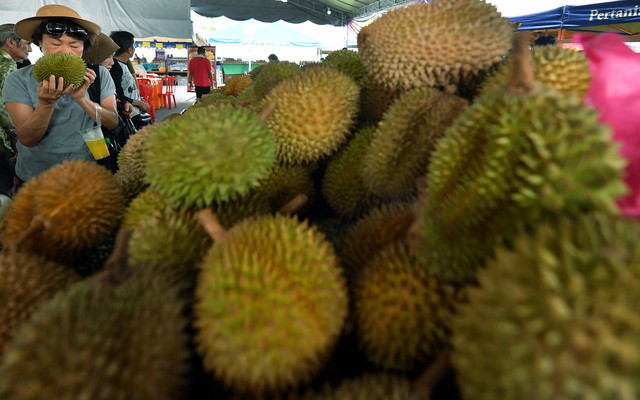 KUALA TERENGGANU, July 1 -- The Federal Agricultural Marketing Authority (FAMA) in Terengganu will be putting some 15 to 20 metric tonnes of durians on sale under its "Jualan Anak Beranak 2.0" programme in August.
Its director, Fauzi Mohamad said through this programme, FAMA will be buying various types of durians from 50 to 100 durian sellers around Besut and Setiu as well as Kelantan, to be sold at affordable prices to the public.
"However, the price has not been finalised because the prices of durian tend to fluctuate, but we can assure local "kampung" durians will be sold at not more than RM10 per kg or maybe per fruit.
"We are promoting this programme now so that the public will be ready to buy local fruits at the programme," he told reporters at an Aidilfitri celebration organised by Terengganu FAMA here today.
Besides durians, visitors can also get various local fruits such as mangosteens and rambutans at much cheaper prices.
Last year, FAMA sold kampung durians at RM6 to RM8 per kg compared to the market price of RM8 to RM10, while mangosteens and rambutans were sold at RM10 for three kilogrammes compared to the market price of RM5 per kg.
Some 10 metric tonnes of durian were sold out in less than two hours of the opening of Jualan Anak Beranak last year.
-- BERNAMA