Kedah Health Dept gets 11 safety awards from Safety First Group

Last Update: 05/07/2019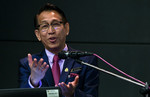 ALOR SETAR, July 5 (Bernama) -- The Kedah Health Department has received 11 safety awards from the pro-safety group Safety First in recognition of the outstanding performance of the staff in all aspects of healthcare.
State Health Director Datuk Dr Norhizan Ismail said the recognition, the first of its kind received by the department, is a huge appreciation for the efforts and sacrifices of all the staff in providing the best health service to the people.
"This recognition is very historic and I hope it will serve as a motivation for all the 16,500 staff of the Kedah Health Department to perform better.
"Our organisation is huge, encompassing nine hospitals including specialist hospitals, district hospitals and health clinics. We could not have achieved this success without the undivided support of all the staff of the department," he said.
The Safety First Group, which disseminates information on road safety through the WhatsApp application, now has access to over 5,200 individuals including abroad and expects the number to increase in a short period of time.
Yesterday, the 11 certificates of appreciation were awarded to specialists and departments of the Sultanah Bahiyah Hospital (HSB) here and the Sultan Abdul Halim Hospital (HSAH) in Sungai Petani.
Dr Norhizan himself was honoured for "steering the healthcare services with dedication, passion and humility".
Meanwhile, Safety First advisor Datuk Seri Azman Ujang said the awards are an acknowledgement of the excellent service of the department which had the support of the superiors at the Health Ministry.
He also said that Safety First had accorded similar recognition to specialists at the Serdang Hospital.
Azman, who is chairman of the Malaysian National News Agency (Bernama), said Safety First plans to present more such awards associated with safety to individuals or departments.
"The field of safety is very wide. Writers or journalists, for example, have to ensure safety by writing what is correct," he said.
-- BERNAMA