Two injured train passengers 'rescued' in Penang Hill simulation exercise

Last Update: 05/07/2019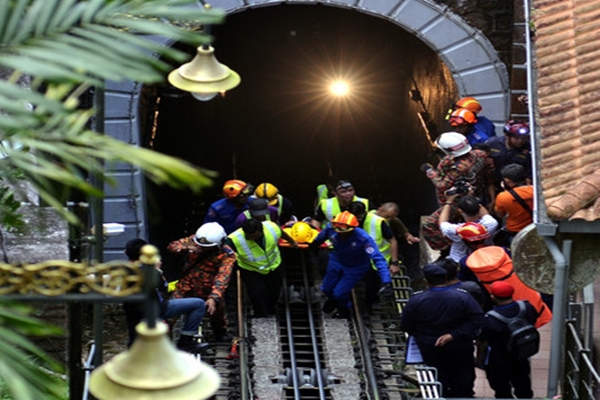 GEORGE TOWN, July 5 (Bernama) -- The Penang Fire and Rescue Department's air unit went to the 'rescue' of two seriously injured train passengers in an accident on Bukit Bendera in a disaster management simulation exercise today.
The two victims were airlifted from the peak of Bukit Bendera (also known as Penang Hill) and transported to Hospital Pulau Pinang for treatment during the simulation featuring a scenario of a landslide causing two funicular trains to come to a standstill, with six out of 100 passengers sustaining serious injuries.
The level one disaster management exercise (DMAX) which involved 15 departments and agencies throughout the state, was aimed at testing their readiness to respond to critical situations.
Speaking to reporters upon the completion of the exercise, Penang Fire and Rescue Department chief Saadon Mokhtar said the mock operation which included the police, Civil Defence Force and Health Department, was a success.
An annual exercise, this year's simulation was conducted on a bigger scale and included the use of helicopters and several types of rescue machinery.
Also present during the exercise was Penang Hill Corporation general manager Cheok Lay Leng and representatives of the various participating agencies.
-- BERNAMA