Raja Permaisuri Agong visits Sarawak's songket, keringkam exhibition

Last Update: 05/07/2019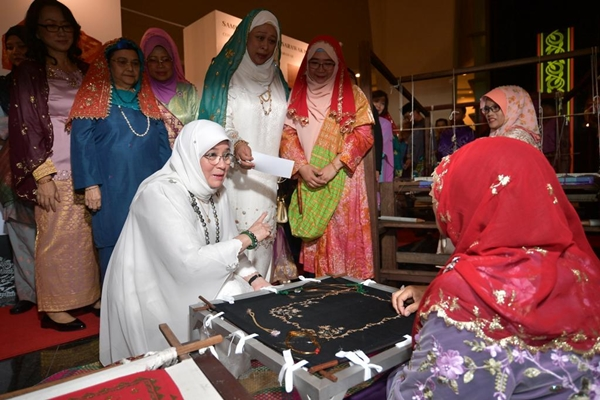 KUCHING, July 5 (Bernama) -- Raja Permaisuri Agong Tunku Azizah Aminah Maimunah Iskandariah tonight visited the Sarawak's handicraft exhibition "Lembaran Emas: Songket dan Keringkam Sarawak" held at the State Legislative Assembly building here.
Her Majesty was accompanied by Sarawak Chief Minister's wife, Datuk Amar Juma'ani Tun Tuanku Bujang, who is the patron of Sarawak Innovation and Keringkam Songket project.
On arrival, she was presented with a keringkam shawl by Juma'ani as a token of her visit.
The Raja Permaisuri Agong was at the exhibition for about 30 minutes watching the various works on songket and keringkam weaving that were displayed.
Along the way, Her Majesty stopped to talk to participants and also showed some of her personal works to them.
In Sarawak, the keringkam is normally used by women to cover their head during official ceremonies, such as engagement and wedding.
The programme was held as a platform to uplift the songket and keringkam industry to international level.
In conjunction with the royal visit, a fashion show using songket and keringkam was held. It displayed designs by Malaysia's fashion king Datuk Seri Bernard Chandran and Queen of Bornean Fashion Datuk Tom Abang Saufi, as well as Sarawak songket producer, Tanoti House.
The Raja Permaisuri Agong is scheduled to return to the federal capital tonight.
-- BERNAMA