"Take care of your family," Tunku Azizah advises former inmate

Last Update: 14/07/2019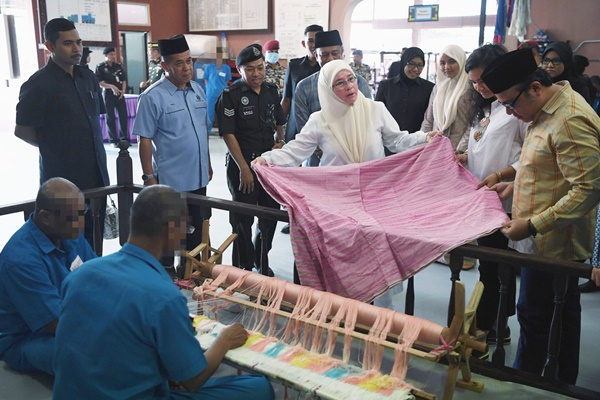 PEKAN, July 14 (Bernama) -- "The queen advised me to to take care of my household, to take care of my wife and behave well...as well as not repeat my past mistakes, because this is a second chance for me to reform myself," said former Penor Prison inmate, Mat Ngek, who just got married yesterday.
The 40-year-old, who works at the Royal Pahang Weaving Centre in Kampung Budaya Pulau Keladi, here, was personally congratulated by the Raja Permaisuri Agong Tunku Azizah Aminah Maimunah Iskandariah during her visit to the centre today.
"Her Majesty also met my wife (Leha, 54), who came with me today. She also gave us a wedding gift and advised us to be patient while running our household.
"She also advised my wife to not easily feel jealous, as there are many women working here. I owe so much to Her Majesty...even from the days I was in prison, as it was at the Penor Prison that I learned the art of weaving," he said when met by reporters.
Mat Ngek and Leha tied the knot at the Kuantan District Islamic Religious District near here, after getting to know each other over Facebook since the end of May.
The native of Kuala Berang, Terengganu, said he began working at the weaving centre in February, after finishing the jail term he served for robbery, since 2012.
"The Raja Permaisuri Agong offered me a job, and she normally does so with convicts who have just been released. Perhaps because we already have the skills, and she knows the quality of our work.
Mat Ngek said he personally wove sets of traditional garments for the royalty on several occasions, including the wedding of the Tunku Puteri of Johor Tunku Tun Aminah Sultan Ibrahim.
"However, people find it hard to believe (what I have achieved and the skillset I have) because of my status (as a former prisoner). It's hard to find a job, so it's better to work with Tunku Azizah, to indirectly keep me away from the things that can lure me back to my old path," he said.
Mat Ngek said he felt happy to work with Tunku Azizah who always encouraged the prisoners to improve themselves, and never once looked down upon them.
"She is also very generous and often brings food to us. There have been times she serves us with meals cooked by herself, and she always asks us if there is any particular type of food we prefer," he said.
Earlier, Tunku Azizah visited the centre to meet with 60 former inmates, who were all excited to greet her.
She was accompanied by the Sultan of Terengganu's eldest daughter, Tengku Nadhirah Zahrah Tuanku Mizan, and they spent almost two hours there observing the weaving process.
-- BERNAMA