15 Orang Asli patients in Lipis Hospital stable

Last Update: 15/07/2019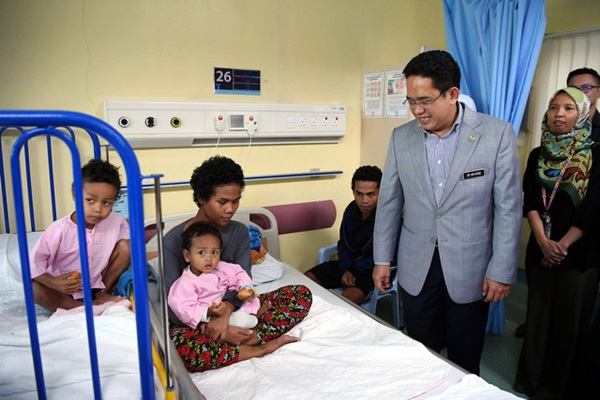 LIPIS, July 15 (Bernama) -- All 15 Orang Asli In Pos Lenjang, who were infected with malaria, are in stable condition, said Deputy Minister in the Prime Minister's Department Datuk Dr Md Farid Md Rafik.
He said all of them were being treated in Kuala Lipis Hospital, comprising 12 children and three adults, from the Semai tribe.
"They received antibiotics treatment for two weeks and are now placed under the meticulous observation of specialist doctors," he told reporters after visiting Orang Asli patients at the hospital here today.
Md Farid added those individuals who went in and out to Pos Lenjang were asked to register with the Orang Asli Development Department (Jakoa) and Lipis District Health Office (PKD) in order to prevent the spread of the outbreak.
He explained that this move would enable the individual to undergo health screening and take prophylaxis to avoid contracting and bringing out the disease.
"The Semai tribe, among others interacts a lot with the outside world, which can make it difficult for us to control the spread of the disease. Therefore, the move to register those who came in and out is the best option," he said.
Meanwhile, Lipis PKD officer Dr Noorhafizan Mat Salleh said so far, about 400 residents from Kampung Pagar and Kampung Sedang in Pos Lenjang had undergone health screening since July 12.
"PKD Lipis has set up five teams for medical and disease control purposes by spraying insecticides and distributing mosquito nets," he added.
The Health ministry, in a statement today, confirmed that all the 15 cases of malaria were reported from the two villages since July 11, and have been diagnosed with Plasmodium vivax.
The cause of the outbreak is being investigated by the Kuala Lipis health office because the area has not had any reported cases of malaria since 2011.
-- BERNAMA