From abused street kitten to International Show Cat

Last Update: 20/07/2019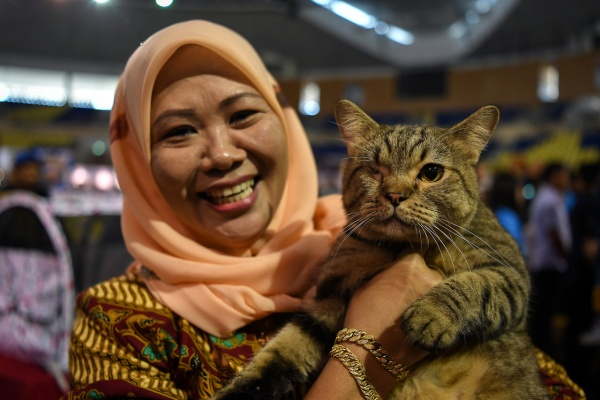 KUALA NERUS, July 20 (Bernama) -- Close to eight years ago, Ungkalicious the cat was an abused street kitten with a protruding and bleeding eye.
His sorry sight wrenched the hearts of Rozita Haron, 48, and her husband Mohd Fizi Abdullah, 43, who came across the three-month-old kitten at the Alor Gajah market in Melaka in late 2011, and rushed him to a veterinary clinic.
The animal needed to undergo surgery to remove the injured eye to prevent the infection from spreading to its brain but was only given a 50-50 chance of survival.
The couple who own a pet store decided to go ahead with the RM600 surgery which thankfully was a success and two hours later, the frisky kitten was on its feet.
Nowadays, the one-eyed mature cat weighing 5.8 kilogrammes is a frequent cat show competitor - in fact, he just took sixth place in the Household Pet category at the two-day Terengganu CFA International Cat Show 2019 which began here today at the state sports complex.
When met at the show, Rozita and Mohd Fizi shared that Ungkalicious who is constantly frisky, has a mind of its own and is mischievous, was named after the Javanese word 'Ungkal' which means stubborn!
This cat-loving couple has 13 other cats at home in Melaka including six village cats with disabilities such as blindness and paralysis.
Also met at today's show was Norizan Mahmud, 38, the owner of cats of the Sphynx breed which is hairless and slim with long ears, catching the eye of many visitors to the show.
Norizan, a civil servant who owns 10 such cats and 20 others, said that while the breed was less popular among cat lovers, it was more loving than most other cats and had warm bodies which were nice to the touch.
"If they are hugged, they will kiss you," she said, adding that the breed is costly to maintain as it needs to be in air-conditioned surroundings and bathed often because of the tendency to sweat.
-- BERNAMA