Man with blind right eye overcomes obstacles to become successful entrepreneur

Last Update: 21/07/2019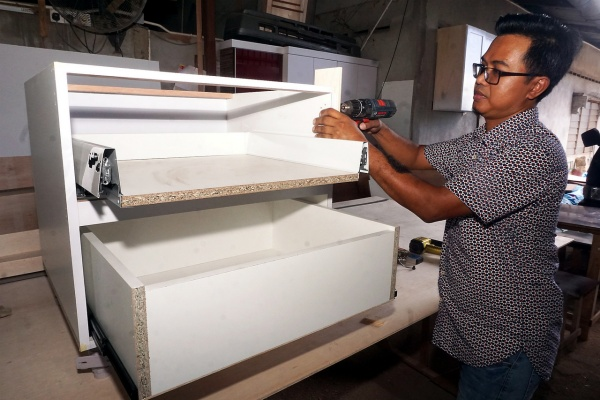 ALOR SETAR, July 20 (Bernama) -- Being blind in the right eye has not stopped Ramli Jamaluddin, 41, from becoming a successful furniture entrepreneur.
Ramli, who lives in the Alor Malai flat here, has also proven that he is capable of running his own workshop at Kampung Alor Melintang, Jalan Dato Kumbar after acquiring knowledge while working under previous employers.
"Alhamdulillah, I have achieved my wish to have my own workshop, there are even four workers, my income has also reached RM6,000 to RM7,000 a month and now I need to focus on quality and customer satisfaction in completing the orders," he told reporters here. today.
According to Ramli, he experienced blindness in the right eye since childhood and relied only on the left eye to see, but now his vision was blurring and he was forced to wear glasses to help see clearly.
Ramli went on to say that to achieve such success was not easy because it requires a lot of patience and earnest effort.
He said his involvement in the furniture industry began in 2007 after deciding to quit his job at a factory in Shah Alam, Selangor before moving to Langkawi and working in a furniture shop for two years.
"When in Langkawi I had an ambition to open my own workshop but due to lack of experience and capital, I continued working. At that time my salary was between RM15 to RM30 a day besides renting a house for RM300 a month.
"My life with a wife and a six-year-old son was pretty tough, so much so that at one stage we had to share a fried egg among the three of us, my second-five-year-old child is living with my mother in Langgar and my wife is expecting our third child.
"... then I decided to move to Alor Setar and work in a workshop near Simpang Empat for two years ... that's where I was taught various manufacturing techniques which I mastered and was paid RM60 a day," he said.
Ramli said after seven years of acquiring knowledge and experience at the furniture shop, he decided to stop and using his own capital of RM4,000 opened his own workshop here.
The father of three children, now aged 10 to 16 years, said he started operating the workshop since 2016 and initially found it quite difficult to get customers as he was new to the industry.
"I won the trust of customers after an acquaintance who had booked a kitchen cabinet was satisfied with my work and continued his orders for his bungalow in Taman Nuri, here costing nearly RM20,000.
"From then on I started getting several orders to make pillars for the mosque and since then many customers began to place orders, besides making furniture for homes I also received orders from government and private offices," he said.
In addition, Ramli is often called upon by public institutions of higher learning and the private sector to give motivational talks to the disabled and beneficiaries (asnaf) besides sharing his success story.
-- BERNAMA