Mural painting gives different satisfaction to an artist

Last Update: 21/07/2019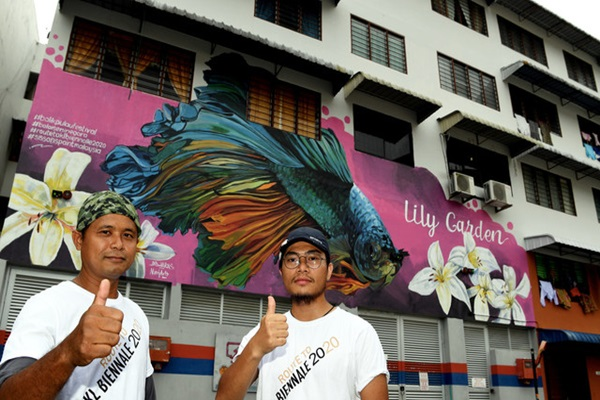 BALIK PULAU, July 21 (Bernama) -- Due to a profound interest in arts, Nasrul Hisham Jamaludin dared to leave his career as a costume designer to venture into a full-time mural art.
The 43-year-old was determined to leave his 15-year career as a costume designer and decided to open a business as a full-time painter by the name of NashArt.
"When I worked as a costume designer, I do portrait painting, mural and others as a part-time job. But when I get used to it and had the feeling that I could go a long way with painting, so I left my job. I set up a business in Ipoh by painting murals, portraits and at the same time, I also did costume designing.
"In addition, I also held workshops on mural painting for the public, so I could not focus on one thing only but to diversify it. We need to be good in marketing," he told Bernama when met after the visit of Tourism, Art and Culture Deputy Minister Muhammad Bakhtiar Wan Chik to the mural at Lily Flat, here yesterday.
Nasrul Hisham with four other local artists was given the opportunity to paint murals on the wall of Lily Flat, Green Flat, Seri Indah Flat and Pekan Kongsi, here in conjunction with the three-day 2019 Balik Pulau Arts Festival.
He said painting a mural gave more satisfaction to an artist compared to canvas painting because murals were closer to the community besides the vast space to work.
"Portraiture painting, for example, can only be seen at the Art Gallery or in an exhibition. If painting on the walls, many people can see it and I think these paintings are more appreciated by the community... it does give a different kind of satisfaction," said the Kg Titi Teras-born artist, who has painted eight murals in Kajang, Ipoh and Bagan Datuk since becoming a mural painter in the last five years.
The Penangite noted that a career as a painter could generate a lucrative income if the painter was wise to take the opportunity and know the marketing strategy.
Meanwhile, Amir Andhar Abu Samah, 25, also shared the same opinion and noted that painting a mural was more satisfying from drawing on canvas as the space was quite limited.
"When you paint on canvas, the number of viewers is not large but it is more fun when you paint a mural because we paint it for people to see. I will feel satisfied whenever people look at my work, and we can show what we can do," said the 25-year-old who became a full-time mural painter after graduating in arts in 2014.
His artworks could be seen in areas around Butterworth, Bagan Luar and Kuala Lumpur and in Singapore.
-- BERNAMA