One death recorded in Langkap, Perak due to dengue

Last Update: 21/07/2019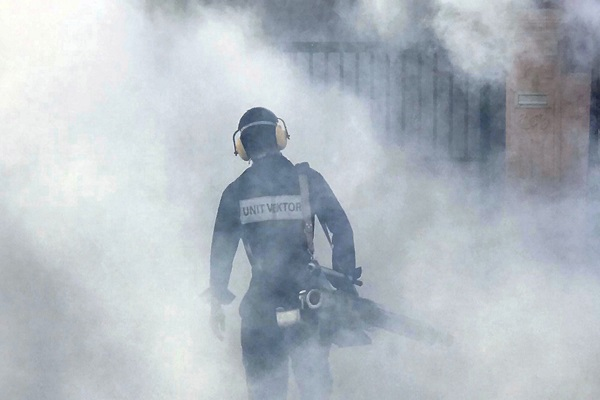 IPOH, July 21 (Bernama) -- One death was recorded while two other individuals were still receiving treatment due to dengue fever in Kampung Pelawan B, Langkap, Perak.
State health director Datuk Dr Ding Lay Ming in a statement today said Hilir Perak district health office (PKD) received the first confirmed dengue case report on July 15 while the other two cases were reported last Friday, without specifying the age and gender of the victims.
"One of the three cases has died due to complications of dengue fever. One case is undergoing treatment at Teluk Intan Hospital while the last case is stable and treated as an outpatient," he said.
Commenting further, Dr Ding said inspections revealed that the main cause of the epidemic was due to the high rate of Aedes breeding in the locality.
He said among the breeding grounds found in the area are abandoned wells and ponds, rubber latex bowls and abandoned rubber latex bins in the rubber plantations.
Hence, he said the Department of Health and Hilir Perak PKD had implemented various efforts to curb the spread of the epidemic.
"They include carrying out inspection and elimination of breeding sites, case detection activities as well as performing larviciding, thermal space spraying (SRT) and ultra low volume spraying (ULV) activities around the epidemic area and the nearby village, Kampung Pelawan A.
"A total of 82 houses were inspected by health officers. Enforcement measures were implemented where five compounds and four cleaning notices under Section 8 (1) of the Destruction of Disease-bearing Insects Act 1975 have been issued against owners of the premises that breed Aedes," he said.
In the meantime, he advised the public especially in areas affected by the epidemic to ensure the cleanliness of their surroundings and promptly perform cleaning activities as well as eliminating mosquito breeding areas outside or inside the house.
"Those with fever are advised to seek immediate medical treatment at the nearest health clinic," he said.
-- BERNAMA