Scaling fish as means of livelihood for single mother

Last Update: 21/07/2019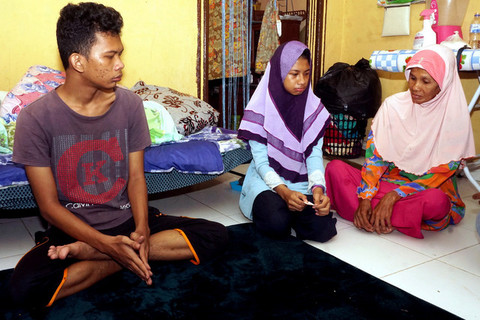 ALOR SETAR, July 21 (Bernama) -- A single mother was determined to return to scaling fish for a wage of between RM10 and RM15 a day, to support two of her five children who are still in school, after her husband died two weeks ago.
Salihah Ishak, 58, said that despite the meagre earnings, she decided to continue working to meet her family's needs.
She planned to go back to work next month, thus continuing her daily routine of cycling for about seven kilometres, to go to the fish jetty to scale fish that were brought in by fishermen every morning.
"For three years I stopped working at the fish jetty near Kuala Kedah, because I had to take care of my husband, Md Khir Hussien who was paralysed, until our life became very hard, now it's time for me to go back to earn a living despite the pain in my veins and waist making it difficult to walk.
"But my husband's pension of RM700 from a landfill company he worked for is not enough for us to survive," she told reporters at her house in Taman Bersatu, Kuala Kedah here today.
Salihah said although she has two sons, aged 27 and 30 years, they could not afford to help her, as they only did odd jobs in the village and had no fixed income.
"I willed myself because I have a daughter in Form Five, who is the hope of the family and two other children, aged 15 and 22, who are disabled," she said, appealing for public donations to lighten her burden.
"In addition, I am also burdened with my husband's debts which amounts to thousands of ringgit when he fell ill, the house assessment, groceries and school fees.
"Our life is very difficult, although some people helped when my husband was bedridden, but now he is gone I cannot expect the same courtesy," she said, adding that her two children with disabilities received aid from the Social Welfare Department .
Those who want to help can contact Salihah's son, Mohd Nazrin at 017-4894655 or donate via Bank Simpanan Nasional (BSN) to Salihah's account number (0210841000070234).
-- BERNAMA