One Centre Malaysia Perlis to correct misconception of Islam - Raja Muda

Last Update: 22/07/2019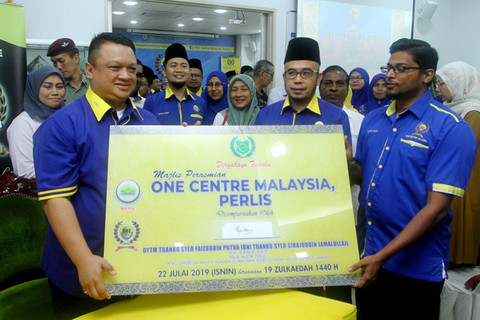 KANGAR, July 22 (Bernama) -- The Raja Muda Perlis, Tuanku Syed Faizuddin Putra Jamalullail said the setting up of One Centre Malaysia Perlis (OCMPs) is aimed at correcting any misconception on Islam and to promote the true teachings of the religion.
The OCMPs role is to serve as a link to unite religion and race, he added.
"By 2035, it is hoped that OCMPs will achieve its vision of becoming a leader in Islam in the Asian region. OCMPs' role is also to defend, nurture, develop and deliver good images and messages on Islam," he said when opening the OCMPs building at Wisma MAIPs here today.
OCMPs is an organisation under the Perlis Islamic Religious and Malay Customs Council (MAIPs) .
Tuanku Syed Faizuddin said in efforts to realise the objective, MAIPs also contributed zakat (tithe) to non-Muslims.
Also present at the event were Perlis Mufti Associate Professor Datuk Dr Mohd Asri Zainul Abidin and MAIPs chief executive officer Mohd Nazim Mohd Noor.
Meanwhile, OCMPs chief executive officer Zamri Vinoth, in his speech, said OCMPs would hold an assembly of Muslim converts through a program, Malaysia Reverts Camp Perlis 2019 , between Aug 16 and 18.
The program, will be attended by more than 30 speakers, locally and abroad, he added.
-- BERNAMA