'My father regrets not being able to save mum, brothers' -- daughter

Last Update: 24/07/2019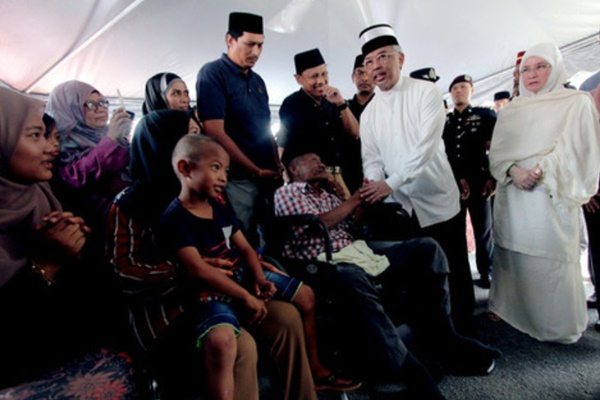 KUANTAN, July 24 (Bernama) -- "My father agonises… he keeps saying that he saved my mother, but she went back into the house for my brothers."
Nor Diana Hairul, 15, said this when asked about her father, Hairul Khalid, 38, who suffered serious injuries in a fire in Kampung Sungai Isap 2 here last Sunday and is being treated at the Tengku Ampuan Afzan Hospital (HTAA) .
She said her father, who is a furniture lorry driver, has regained consciousness but is still in the Acute Cubicle Bay of HTAA for intensive monitoring.
"My father has been informed of the death of my mother and my two brothers on the day of the incident... I told him that I needed to go to manage the funeral. My father was silent, he mentioned his regret and agony for not being able to save them.
"Even until now, my father does not talk much. Perhaps his emotions are still disturbed by the loss of our family," she told reporters when met at the location of the razed houses here today.
Earlier, Nor Diana had received condolences from the Yang di-Pertuan Agong Al-Sultan Abdullah Ri'ayatuddin Al-Mustafa Billah Shah and the Raja Permaisuri Agong Hajah Tunku Azizah Aminah Maimunah Iskandariah, who visited the families of the victims.
Nor Diana's mother, Sharifah Azlina Syed Kassim, 37, and her two brothers Muhammad Haikal Hakimi Hairul, 11, and Muhammad Adam Daniel, seven, were killed in the fire that broke out at about 7.45 am on Sunday.
The fire also caused severe injuries to three others and a minor injury to another person while a six-year-old boy escaped unhurt.
Nor Diana said she was not home at the time of the incident, as she stayed with her aunt in Indera Mahkota here, to work at an eatery in the town.
"I only went to school for a couple of months before I quit to help my family earn a living. My mother did not work and my two brothers were still young, so it was better for them to attend school," she said.
However, following the incident, she will stay with her grandmother in Sitiawan, Perak and hopes to return to school.
Meanwhile, Sultan Abdullah and Tunku Azizah accompanied by the Menteri Besar of Pahang Datuk Seri Wan Rosdy Wan Ismail and Deputy Minister in the Prime Minister's Department Fuziah Salleh also visited the victims warded at HTAA.
The King and Queen arrived at HTAA at 12.30pm, expressed their sympathies to the victims and advised them, especially Hairul, to be patient with the test of the loss of his family members.
-- BERNAMA