Tunku Azizah, the angler queen

Last Update: 25/07/2019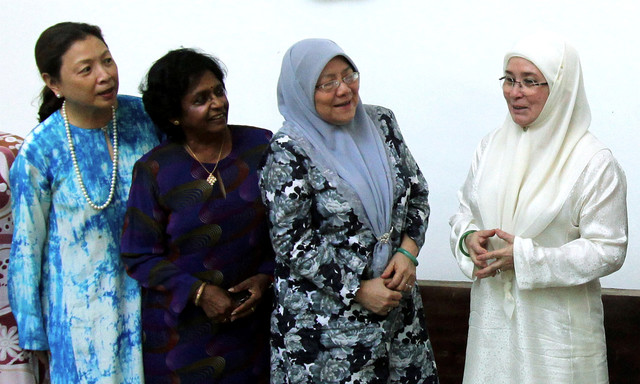 By Siti Salwa Shaari
KUANTAN, July 25 (Bernama) -- Raja Permaisuri Agong Tunku Hajah Azizah Aminah Maimunah Iskandariah's interest in the culinary arts and sewing are well documented and yet many will be surprised to know that Her Majesty has another hobby that, arguably, rarely appeals to women - angling.
Underneath her gentle demeanour, Tunku Azizah is actually a competent angler who puts the bait on the hook herself and never returns empty-handed from an angling outing at sea.
This sporty side of the Raja Permaisuri Agong was revealed by her friend, Datin Seri Tan Puay Ling, 58, who said the hobby was among Her Majesty's favourites even though she rarely gets the chance to indulge in the sport.
"Our last angling trip was last year at Pulau Redang (Terengganu) and, as usual, she did not have to wait long for the fish to bite.
"I don't know how ... maybe it is her talent, and she is so comfortable at sea while I often experience seasickness although I feel much better nowadays after accompanying Her Majesty on several angling trips," Tan told Bernama.
Recalling how they came to know each other, Tan said she used to watch Her Majesty from a distance as her youngest son, Ti J-hhix, and Tunku Azizah's son, Tengku Muhammad Iskandar Ri'ayatuddin Shah Sultan Abdullah, attended the same kindergarten in 1999.
"I only watched Her Majesty from afar as I was too shy to approach her due to her stature in society. The first time that we talked was when I accompanied my daughter to her primary school sports day.
"At that time, Tunku Azizah was at the school to encourage her son, Tengku Amir Nasser Ibrahim, and she remarked on the way I had worn my Kedah baju kurung with long pants, saying it was an interesting way of wearing traditional clothing," she said.
Following that conversation, Tan gradually forged a close friendship with Her Majesty, and also for the fact that her husband, Datuk Seri Ti Lian Ker, was politically active in Pahang.
Tan said another thing that she really admired was Tunku Azizah's endless energy every time she went down to the ground to meet the people.
As she often accompanied Tunku Azizah in preparing food at the temporary relief centres during the floods, Tan admitted that the Tengku Ampuan of Pahang had never looked tired and never complained despite having to prepare meals at three or four centres in a day.
Close friends of Tunku Azizah have often, in jest, likened Her Majesty's strength to batteries or solar energy after the sun has set.
"If there is a mysterious box challenge cooking contest, Tunku Azizah will definitely win as she can certainly prepare delicious meals from the ingredients and, because of her too, I can now cook almost 100 recipes using only canned sardines and cabbage," she said, referring to two frequently-used ingredients at the relief centres.
Tunku Azizah is very concerned about the people at the centres and often reminded the cooks to refrain from making the meals too spicy as there were children there and not to use too much coconut milk to avoid the food from getting spoilt too fast so that the people could eat again later if they wished, she said.
Tan said Her Majesty rarely falls asleep while travelling in a car, keeping herself busy by crocheting, writing or playing 'Candy Crush', and she never loses her focus even if she is chatting at the same time!
"If I am asked about Her Majesty's 'me time', I seriously don't know as most of the time there are always things that she wants to do. I experience fatigue just looking at her activities but I am also learning to be a better person because of her.
"There was a time when we went to a village and I knew she saw that the floor (of a house) was dirty, but she still respected the invitation from the host and removed her shoes to enter the dwelling.
"When I saw Her Majesty looking the other way, I quickly wiped my feet with my baju kurung and I was reprimanded by her for that in the car later. She had noticed what I did and said it was an impolite act that had embarrassed her.
"She reminded us to be sensitive to other people's feelings, especially the hosts. Also, when we visited places infested with flies, Her Majesty would eat the food served, even if it was just plain rice and chicken," she said.
-- BERNAMA