Pahang government to rebrand kampung durian

Last Update: 27/07/2019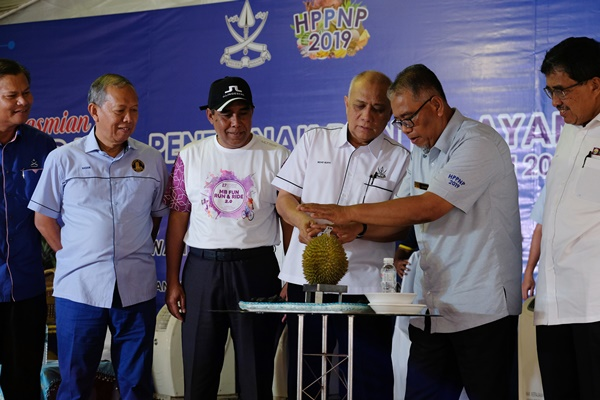 KUANTAN, July 27 (Bernama) -- The Pahang government will rebrand kampung durians which were found in orchards in traditional villages in the state.
State Agriculture, Agro-based Industries and Biotechnology Committee chairman Datuk Seri Mohd Soffi Abdul Razak said that the rebranding of kampung durians could give a commercial value to the produce.
He said that there still many species of durian which had yet to be registered despite their quality and taste being comparable to Musang King, which was the identity of the district of Raub.
''The durians are only popular in their areas of origin such as the green durian in Beserah, 'jantung' durian which is numerous in Lipis or 'tembaga' durian which is planted in many places in the state.
''Most of these durians are only known as kampung durian, and because of the word kampung their prices are low because they are sold at RM15 a kilogramme, which is already regarded as expensive,'' he said.
Mohd Soffi said this to reporters after launching the 2019 Pahang Farmers, Livestock Rearers and Fishermen's day in Taman Bandar here to day.
He said that the effort to rebrand the kampung durian also received the support of Menteri Besar Datuk Seri Wan Rosdi Wan Ismail who saw it as a platform to help boost the income of the rural residents.
''Villagers usually plant durian on a small scale whereas it has very high potential. Maybe, they lack the capital to develop it commercially.
''It is hoped that when we have completed doing the inventory on durian, we can identify the varieties of durian which are suitable for commercialisation with the help of high technology,'' he said.
Mohd Soffi said that this was based on a previous experience whereby a kampung durian known as 'raja kunyit' was now very valuable and exported, namely, Musang King.
Meanwhile, in his speech Mohd Soffi said that Pahang had the potential to become a major livestock producer when the livestock sub-sector production was valued at RM1.5 billion last year.
Among the products were chicken which was a major contributor at 84,000 metric tonnes worth RM711 million while cows and buffalo (4,070 metric tonnes worth RM108 million, milk (6.6 million litres, RM17.8 million) and eggs (22.075 metric tonnes, RM128 million).
-- BERNAMA