Pengkalan Datu poised to emerge as a tourism hub

Last Update: 28/07/2019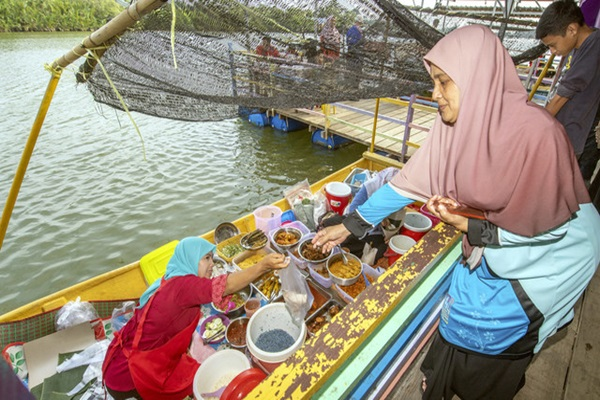 KOTA BHARU, July 28 (Bernama) --The Kota Pengkalan Datu floating market, situated about seven kilometres from the Sultan Ismail Petra Airport (LTSIP) and 10 km from Kota Bharu, is poised to become a popular tourist spot, said Cerana Villa Resort manager Mohd Asri Husin.
In efforts to bring back the nostalgia of the golden days of Pengkalan Datu, Mohd Asri said he had been establishing ties with the relevant parties to promote the resort as a fun and enjoyable getaway while helping to support the local economy.
"The Pengkalan Datu River Basin is the latest tourist attraction where natural, cultural-heritage and historical tourism products as well as agro-cultural and traditional food are available.
"Our focus now is to intensify community-based activities and promote them as tourism products including highlighting the various traditional methods of fishing and hunting for cockles along the Pengkalan Datu river," he told Bernama today.
"We have also developed the Floating Farmers' Market which is held every Saturday from 8am to noon and the Pulau Gajah Fishermen's Market which operates daily except Friday, from 2am to 5pm," he said while adding that accomodation were available at the Cerana Villa Resort which could accommodate 50 visitors at anyone time.
Another area which has the potential of becoming a popular destination in preparation for Visit Malaysia 2020 is Pulau Suri, located within the clusters of small islands at the Kelantan river mouth.
"The islands around here have been popular for their Saturday floating markets and are ideal for kayaking and canoeing, said recreational consultant Suzilan Mohd Salleh.
He said as the waters surrounding the island are not affected by the changing patterns of the tides, kayaking and canoeing could be a relaxing recreational activity for visitors as they take in the beauty of the sandy beaches, swaying palms and blue sea.
-- BERNAMA