Malaysia hosts three-day sixth TMP Port Visit in Sandakan

Last Update: 29/07/2019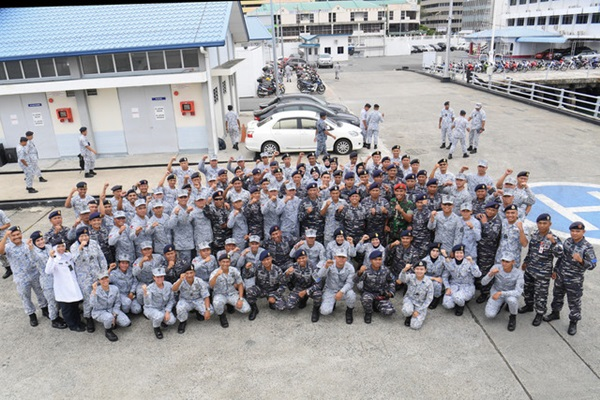 SANDAKAN, July 29 (Bernama) -- Malaysia is honoured to host the Sixth Trilateral Maritime Patrol (TMP) Port Visit involving member countries Malaysia, Indonesia and the Philippines at the Royal Malaysian Navy Region 2 headquarters (Mawilla 2), here, for three days beginning today.
Mawilla 2 deputy commander, Captain Azeman Yusoff said hopefully, the programme under the Trilateral Cooperative Arrangement (TCA) initiative could enhance friendship and cooperation between the navy people of the three countries.
"We hope this programme will increase our (Malaysia, Indonesia and Philippines) cooperation in defending our waters at all times.
"We do not know when untoward incidents will occur. Therefore, we (the three countries) always ensure our preparedness in all aspects and collaborate in dealing with threats as a team," he told reporters after welcoming the participating naval ships from the Indonesian National Military – Naval Force and the Philippine Navy here.
Azeman said the TMP Port Visit had brought many benefits to the navy people of the three countries since it was launched in 2017, including closing the gap in the way each naval force worked for successful cooperation.
Meanwhile, Maritime Command Centre director, Captain Pulendren Paramasivam said the cooperation between Malaysia, Indonesia and Philippines had been fruitful, especially in sharing information and carrying out coordinated sea patrols, which had deterred criminals from carrying out their activities at sea.
Some 200 navy officers and personnel from the three countries are involved in the TMP Port Visit.
The three naval ships involved in an exercise during the three-day programme are Malaysia's KD Pari led by its commanding officer, Lt Commander Mohd Ridzuan Samsudin; Indonesia's KRI Hui led by Lt Col Ahmad Ahsan and Philippines' BRP General Mariano Alvarez led by Commander Raymond F Umbac.
-- BERNAMA