Kelantan police seize drugs worth more than RM100,000 in 'Operation Ice Breaker'

Last Update: 31/07/2019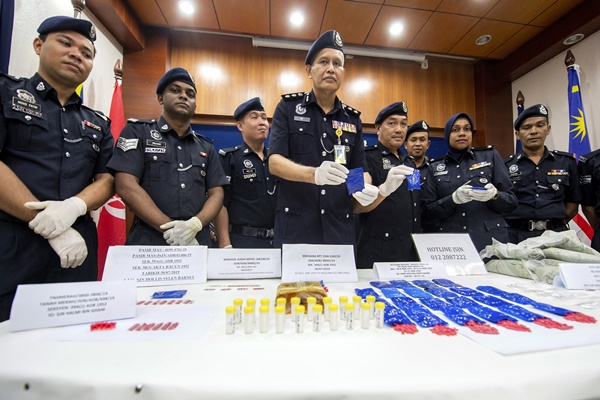 KOTA BHARU, July 31 (Bernama) -- The 'Operation Ice Breaker' conducted by the Kelantan Narcotics Crime Investigation Department (NCID) from July 28 until yesterday resulted in the seizure of more than RM100,000 worth of drugs.
Kelantan NCID chief ACP Mit Emong said the police also detained 239 individuals across the state including distributors (21), owners (88), those who tested positive for drugs (119) and those arrest warrants against them (8).
"In one of the cases recorded, the police arrested three men aged 32 to 41 in front of a house in Tasek Pauh, Selising, Pasir Puteh at about 1 am yesterday (July 30).
"In the incident, the police managed to arrest all the suspects after a scuffle, and urine tests found all three suspects positive for Methamphetamine," he told reporters during a press conference at the Kelantan police contingent headquarters here today.
Mit said checks on the Honda Jazz car the suspects were in revealed 5,200 horse pills, 20 clear plastic bottles believed to contain 80 grams of heroin, and crystals believed to be Syabu weighing 58.86 grams.
Members of the public with any information on drug-related activities may contact the police hotline at 012-2087222, he added.
-- BERNAMA