Pasar Payang's operations ends at midnight tonight

Last Update: 01/08/2019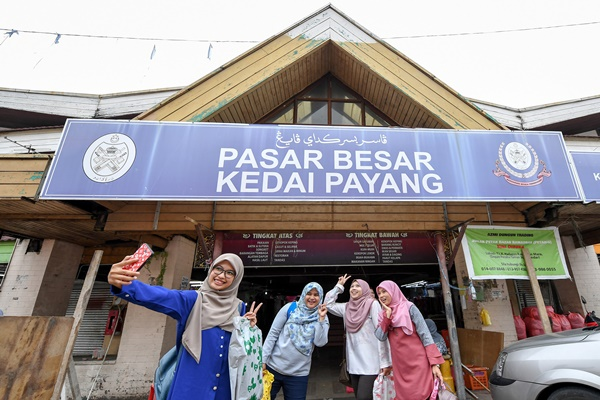 By Noor Aznida Alias
KUALA TERENGGANU, July 31 (Bernama) -- Operations at Pasar Payang, a tourist attraction in Terengganu, will come to a standstill at midnight tonight before a large section of the building, which was built 51 years ago, is to be demolished for redevelopment.
A Bernama survey at the market which is renowned for its batik and 'keropok' found that over 90 per cent of the about 1,000 traders had emptied their shops and moved to the temporary Pasar Payang 2 about 80 metres away.
The atmosphere at Pasar Payang was quiet since morning and only some elderly traders were seen chatting and looking at their shops as if seeking the strength to leave.
It is understood that Pasar Payang would be closed from midnight tonight and a fence would be put up around it to enable construction work to be carried out to give a fresh breath by introducing a more modern and a cleaner outlet.
A kitchenware and household equipment trader Hamad Senik, 65, said the atmosphere at Pasar Payang started to become gloomy after a large number of traders started to move out and operated in stages at the new venue since several weeks ago.
However, he said that there were still some traders operating at Pasar Payang on the last day as they wanted to savour the final sweet moments before returning in two or three years.
''I have started packing up and sending my goods to the new market since two weeks ago, but the work has not been completed until today because I have quite a lot of stock. I am only assisted by my wife, Khadijah Sulaiman, 60.
''I have kept some of the stock at home because the shop at the temporary outlet is only half the size of the one here,'' he said.
Meanwhile, a batik trader, Hashimah Hashim, 65, said after 40 years of making her living in Pasar Payang, she wanted to reminisce about her ups and downs by keeping her shop open until the final day before it closed officially tonight.
''I feel reluctant to leave this shop which has contributed much to my family. But for the good and future of the traders, we agree to move out and hope trading at the new location will be as smooth as here,'' said Hashimah who spent about RM4,000 to renovate her new shop.
-- BERNAMA