Another month before Terengganu drawbridge will allow ships passage

Last Update: 01/08/2019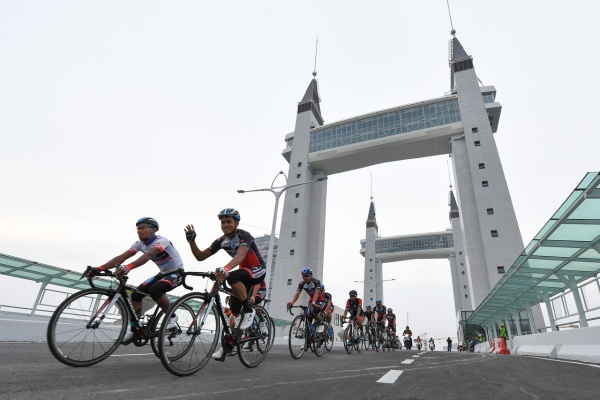 KUALA TERENGGANU, Aug 1 (Bernama) – Formally opened for public use today, the first drawbridge in Southeast Asia located at the Sungai Terengganu river mouth is however only expected to allow ships to pass through next month.
Drawbridge maintenance and management company, TI Properties Sdn Bhd chief executive officer, Khalizan Mahmud, said the right time to do it is being discussed with Marine Department Malaysia.
"We will provide the public with a monthly timetable on when the drawbridge will open so that they can view for themselves how ships can pass through.
"We've tested it many times already, yesterday evening too, and so far no problems," he told reporters after the 638m-long bridge was officially opened to traffic today at 6am.
Built at a cost of RM248 million, the (yet to be named) hydraulic bascule bridge with two 16-storey towers is the fourth bridge to connect Kuala Terengganu and Kuala Nerus. The other three are Jambatan Sultan Mahmud, Jambatan Pulau Rusa and Jambatan Pulau Sekati.
Khalizan said the public can go jogging on the bridge, even at night, but they must stay on the footway for their own safety.
He said a bike lane is being studied, however "the passage for cars will become narrow. For the time being, we have no problem with cyclists using the bridge".
The sky bridge, gallery and restaurant, too, will take another month or two to open.
Khalizan said sky bridge visitors will be charged a minimum fee to cover operating expenses and added: "For six months after the opening, however, there will be a big discount to enjoy the view from high above."
In fact, the view was praised by a group of Terengganu Inc TSG Cycling Team (TSG) members who crossed the bridge during training today.
The team's assistant coach, Mohd Saiful Anuar Aziz, said: "The cyclists told me although they often train overseas, there was nothing more exciting than crossing the drawbridge which they said was first-rate because of its incredible view, especially of Pantai Miami at Seberang Takir."
-- BERNAMA