Supporting Dr Mahathir till end of term does not mean rejecting Anwar - Azmin

Last Update: 02/08/2019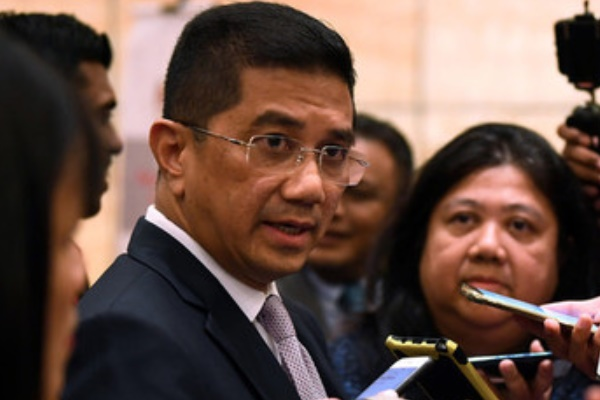 GEORGE TOWN, Aug 2 (Bernama) -- The statement by PKR deputy president Datuk Seri Mohamed Azmin Ali that Tun Dr Mahathir Mohamad should continue to serve as prime minister until the end of his term does not mean that he does not support Datuk Seri Anwar Ibrahim as his successor.
Mohamed Azmin who is also Minister of Economic Affairs urged all parties not to come up with their own interpretations but to look at his statement which was mainly about economic issues.
"Did I say anything (about not supporting Anwar as the eighth Prime Minister) there (in the statement), do not misinterpret. If you look at it, 80 per cent of my statement was about economic stability, investment, creation of jobs and new investments.
"I think it is important that the Prime Minister continues his leadership so that there is political stability and consistency, completion of the policies until we decide in the next general election.
"I have no intention of upsetting any individual. I believe the people are drained out by political fatigue as just one year after we have been given the mandate, we have started to talk about political matters. To me, that is not healthy, we should continue to work," he told reporters here today.
Azmin was responding to questions if his statement that Dr Mahathir should remain as Prime Minister until the end of his term showed that he did not support Anwar who is PKR president as the next PM.
On Monday, July 29, Azmin was reported as saying he welcomed the PAS-UMNO stand that Dr Mahathir should remain as PM until the end of the five-year term of the government in order to ensure stability, continuity and the realisation of government policies.
Earlier, Mohamed Azmin and Chief Minister Chow Kon Yeow chaired an engagement session with the Penang State Government to prepare for the 12th Malaysia Plan (12MP).
Asked on what was discussed with the PM in the recent meeting, Mohamed Azmin said he had many meetings with the Prime Minister and most were on economic issues and did not touch on political matters.
"I have regular meetings with the Prime Minister but mainly, my meetings focused on economic matters, ministerial matters. Like now, we are preparing the 12MP, so I need to discuss with and consult the Prime Minister the priorities that need to be addressed.
"My ministry is also the Secretariat for the Economic Action Council. So, from time to time I need to meet the Prime Minister and discuss these issues. So I am too occupied on this matters, I do not discuss political issues. I don't know which meeting you are referring to," he said.
-- BERNAMA