Lost World of Tambun notches Asian record in ice sculpture

Last Update: 04/08/2019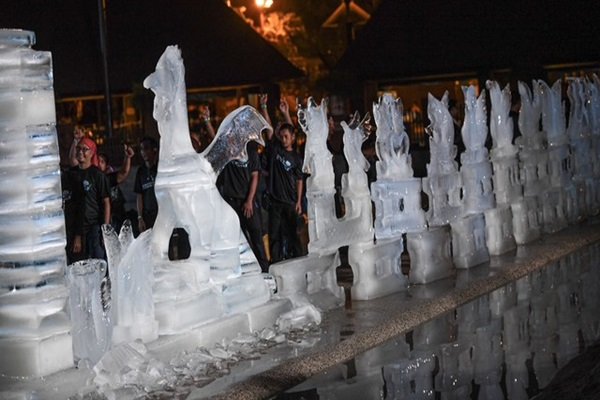 IPOH, Aug 4 (Bernama) -- After 26 hours of hard work carving block ice stretching 60 metres (200 feet) long to highlight the attractions at the Lost World of Tambun theme park here, it went down as the most expansive ice sculpture in the Asia Book of Records.
The effort started at 7.15 pm yesterday and was completed at 9.15 pm. To get the recognition, the ice was not to melt for at least two hours.
Lost World of Tambun general manager, Nurul Nuzairi Mohd Azahari said the dream to get the theme park's name in the Asia Book of Records (ABR) started about a year ago with the purpose of providing training to students of culinary arts.
"From there, we gathered 25 senior sculptors and 25 amateurs who were helped by 67 students of the Chenderoh Community College, Kuala Kangsar to get the job done. It was a challenging task because of our tropical weather and besides there is also a hot spring nearby, but we succeeded," he told reporters after being presented the certificate of recognition at the theme park last night.
He added that the recognition was all the more meaningful as it was achieved in conjunction with Bulan Kebangsaan, the month-long National Day celebrations which commenced yesterday.
Asia Book of Records was represented by Evelyn Kuppa and Grace Kuppa. Three chefs who headed the sculpture team - Sabri Hassan, Ahmad Tarmizi Ismail and Harun Jalil - were also awarded ABR certificates for the feat.
All in all 250 blocks of ice, each weighing about 100 kgs were used, The height of the main feature was 3.9 metres (13 feet).
-- BERNAMA