Police seize two homemade air pistols, air gun

Last Update: 04/08/2019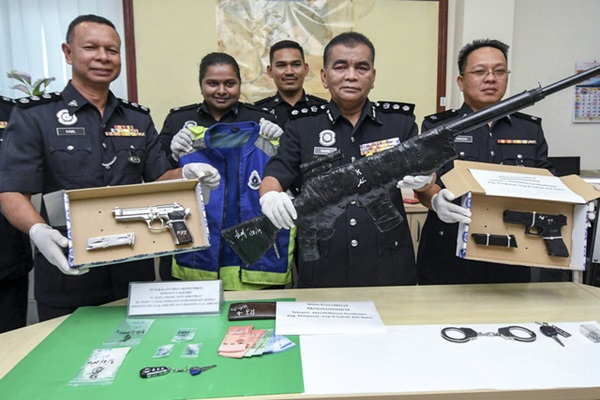 KOTA BHARU, Aug 4 (Bernama) -- Police have seized two homemade air pistols and an air gun after detaining two men at Kampung Kedai Lalat and Padang Bemban here, in an operation on Tuesday (Aug 1).
Kota Bharu district police chief ACP Abdul Rahim Daud said that the first seizure was carried out at Kampung Kedai Lalat when a district police headquarters CID team detained a man in front of a food outlet at 2 am.
''Police detained the 25-year-old man after finding a pistol tucked under his waist band and an examination of his car uncovered 32 ball bearings which were believed used as ammunition.
''Also found in the car were a pair of handcuffs and a vest with the Royal Malaysian Police logo,'' he told a media conference at the district police headquarters here today.
He said that the suspect took the police to a store in Padang Bemban where another pistol, a gun and several ball bearings were found.
''Police also detained a 46-year-old man. Further investigation revealed that the two suspects had bought the weapons from a neighbouring country for RM800 each for security purposes, while the gun was for shooting squirrels,'' he said.
He said that both the suspects were remanded until Aug 7 to help in investigations under Section 8(a) of the Firearms Act 1960.
In another development, a district police headquarters Narcotic CID team also detained two men in Op Tapis at the Sixth Mile, Pengkalan CHepa here, at 4 am yesterday.
He said that the men were seated in a care by the side of the road when the police team approached them.
He said that the police inspected the car and found a red plastic containing crystals believed to be syabu weighing 57.8 grammes and estimated to be worth RM8,500.
''Further investigations found the two men, aged 46 and 48 years, who were from Johor and Kuala Lumpur, respectively, were positive on Methamphetamine.
''We believe the two suspects were actively distributing drugs since four months ago. They were remanded from yesterday until Aug 9 for investigation under Section 39B of the Dangerous Drugs Act 1952,'' he added.
-- BERNAMA