Special needs students thrilled to learn robotics

Last Update: 04/08/2019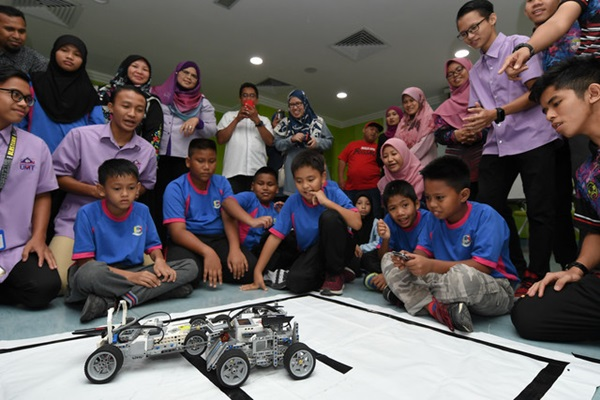 By Zalina Maizan Ngah
KUALA NERUS, Aug 4 (Bernama) -- Thirteen-year-old Ahmad Adif Abid Admir, a special needs student with dyslexia, never imagined that he would one day have the opportunity to learn about robotics, the science of designing and operating robots.
"I never thought I would be able to touch and make a robot," said the youngster who is one of 15 special needs students from Sekolah Kebangsaan Padang Hiliran in Kuala Terengganu, who attended a one-day Science, Technology, Engineering and Mathematics (STEM) programme at Universiti Malaysia Terengganu here, which enabled the students to understand the basics of robotics.
When interviewed by Bernama at the recent event, Ahmad Adif confessed to not being able to sleep the night before the programme because he was too excited and his mind was filled with thoughts of making robots.
"I'm not good at reading but I was able to guess how to connect the wires with the help of a facilitator", said the teenager who is also preparing for the Pentaksiran Alternatif Sekolah Rendah (PASR) examination designed for special needs students in their final year of primary education.
Equally excited at the learning opportunity was autistic student Muhammad Siraj Mirza Mohd Syahril Redhuan who was jubilant when he managed to successfully connect various wires to turn on a moving light.
The programme which was also attended by 16 students from Sekolah Menengah Sains Sultan Mahmud who served as volunteer facilitators, was jointly organised by the university and Bernama's Terengganu bureau.
Assoc Prof Dr Laili Che Rose, director of the university's STEM Foundation Centre, said the event which aimed to inculcate skills in the fields of science, technology, engineering and mathematics among special needs students, should be continued as it was in line with the government's call for all parties to be ready for the Fourth Industrial Revolution.
She added that from her observation, "when special needs students are given the opportunity, they can do it".
The programme, which also facilitated sharing of knowledge between the normal stream students and the special needs students, was sponsored by an individual benefactor as well as the Duyong Marina Resort which provided food and refreshments for the 50 people in attendance, including students and teachers.
-- BERNAMA