Big plans for KMJG convoy in Kelantan

Last Update: 05/08/2019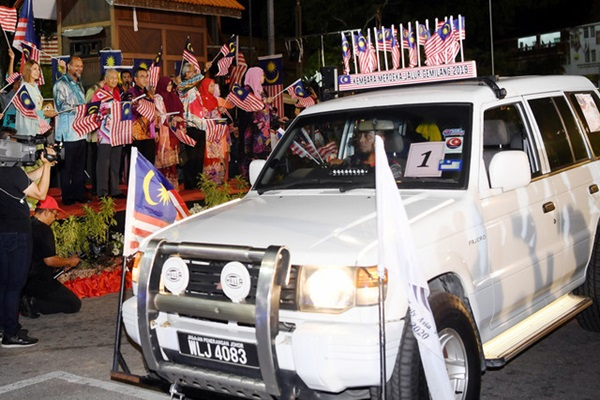 KOTA BHARU, Aug 5 (Bernama) -- The Department of Information (Japen) Kelantan is planning various programmes in conjunction with the 'Kembara Merdeka Jalur Gemilang' (KMJG) convoy which will stop by in the state on Aug 15.
Its director Lim Ann Teck said among the programmes planned to welcome the 133 participants of the convoy at Mydin Mall Kubang Kerian was an exhibition and blood donation drive by the Kelantan Health Department, counters for checking and paying summons by the Royal Malaysia Police, Telekom Malaysia Berhad and Kota Bharu Municipal Council.
"The convoy is expected to arrive at 3 pm and representatives of the convoy will distribute the Jalur Gemilang in conjunction with the 2019 National Day Celebration.
"In addition, Dewan Bahasa dan Pustaka (DBP)'s former director-general Datuk Aziz Deraman is expected to recite a poem while the programme will be launched by representatives from the Kelantan Police Contingent," he told Bernama here, today.
Commenting further, Lim said the highlight of the KMJG convoy programme was on Aug 16 at the Tunjong Rural Transformation Centre (RTC) here.
"At the opening ceremony, representatives of the state government will hand over the Jalur Gemilang to representatives of the Federal and state governments, the police, the Malaysian Armed Forces, non-governmental bodies and representatives of all communities in Kelantan.
"The programme will involve all segments of society regardless of political and religious affiliations so that it can bring about awareness to the people," he said.
He said the programme would receive the cooperation of the state government and this was the second year it was being held.
After the programme, the convoy would travel to Bukit Bunga, Tanah Merah before proceeding to Grik, Perak and subsequent destinations.
On Saturday, Prime Minister Tun Dr Mahathir Mohamad launched the National Month and Fly the Jalur Gemilang 2019 campaign which took place with a colourful display of patriotism watched by about 10,000 visitors who filled Dataran Pahlawan, Bandar Hilir, Melaka.
-- BERNAMA