Kelantan Sultan orders PPRT houses for fire victims in Kampung Dusun Muda

Last Update: 07/08/2019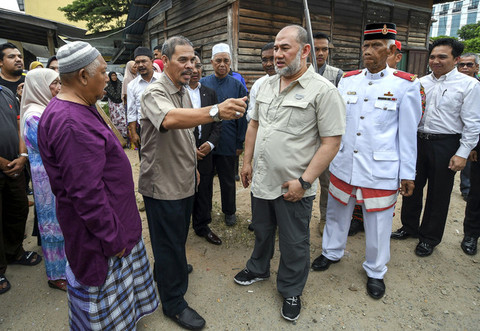 KOTA BHARU, Aug 7 (Bernama) -- The Sultan of Kelantan Sultan Muhammad V today ordered the state government to provide houses under the Housing Projects for the Hardcore Poor (PPRT) at Wakaf Mek Zainab here to seven families who were made homeless in a fire in Kampung Dusun Muda last Monday.
The sultan visited the site of the fire here today and handed over contributions, including cash, to the victims.
He was accompanied by Kota Bharu Member of Parliament Datuk Takiyuddin Hassan, Kelantan Islamic Religious Council deputy president Zulkifli Abdul Rahman and State Fire and Rescue Department director Nazili Mahmood.
Meanwhile, Takiyuddin said he would bring up the matter to the state Local Government, Housing and Health Committee for further action.
"We will do our best to help ease the burden of the fire victims, who have to stay with relatives, especially with the Aidiladha celebration only a few days away, he added.
.The fire, which broke out at about 9 pm, left seven families with only the clothes on their backs.
The victims, when met by reporters, said they were overwhelmed by the Sultan's concern for their losses in the fire.
-- BERNAMA