Jasmine flowers have huge demand in Pasar Siti Khadijah

Last Update: 08/08/2019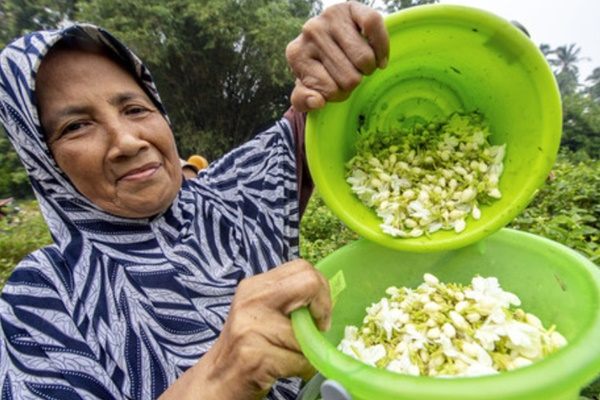 KOTA BHARU, Aug 8 (Bernama) -- A farm filled with jasmine flowers, will not only produce a sweet-smelling and refreshing fragrance but many people are unaware that the garden can provide a source of income for flower suppliers.
To find and harvest the fragrant flowers especially the jasmine type is a traditional activity carried out 50 years ago around Kampung Tanjung Stan, Wakaf Stan here.
The sole jasmine flower supplier at Pasar Siti Khadijah, Tengku Zawiah Raja Daud, 60, inherited the occupation of her mother, the late Esah Kumat who was well known in the village.
"Today's younger generation doesn't seem to know the function of the jasmine flower, and I think some of them would be surprised and wonder why the flowers are being sold if they go to the market.
"My late mother had a field at about 0.9 hectares, and every morning, we will harvest 200 flowers and other crops such as sand ginger, lemongrass, chilies, lime, turmeric, and galangal," she told Bernama here today.
A 75-year-old flower trader, Zainab Awang Kechil said she inherited the job, that provided income for her and her family, from her mother, who was known as 'Mak Ngah', for more than 30 years.
"At 7 am, I will ride my motorcycle to collect the flowers before sending it to the nearby florist at Kampung Tanjung Stan two hours later.
"The flowers stringing will be made according to the demand of customers' comprising Chinese, Indians, and Siamese who use flower strands for prayers.
"While for the Malay community, they want the jasmine flowers to be combined with other sweet-smelling flowers such as cempaka, kenanga, kesidang, and roses for floral bath treatment and to refresh the body," she said.
According to Zainab, it was a tradition in Kelantan those days where women are fond of putting flowers behind their ears and on the veils, as well as under the pillows for the purpose of making the bedroom smell nice.
"These flowers were also used to put as a decoration on wedding trays, besides sprinkled on the graves," she added.
Explaining further, Zainab said 10 strands will be sold at RM1 during peak flowering season otherwise, the flowers would be sold with a high price of two to five strands for RM1 during low peak season.
Meanwhile, a florist, Zabidah Salleh, 56, who has experience for almost five decades, acknowledged her efforts were admired by local and foreign visitors in Kelantan.
"I follow and learn how to string the jasmine flowers from my late mother (known as Mak Ngah Bunga) for almost 50 years when I was eight years old.
"The art to string jasmine flowers to the strings made from banana husks and usually, I can arrange the flowers in a string within three seconds, where I also invented a special tool to speed up my work before Zainab picks it up for sale at 11 am," she added.
On the average, Zabidah said she could prepare 200 jasmine flower strands a day based on the supply of the flowers available.
She added, among the method was to string the flowers by using banana stem benggala type (known as Pisang gala among Kelantanese) and 'jelai berangan' are only suitable to make as strings, and the flowers will be arranged with 12 flower buds with one bloomed flower at the end of the string.
"I have received orders of thousands of jasmine flowers from the fishermen community who wanted the flower as a symbolic custom to celebrate the new boat rides before using it to catch fish," she added.
-- BERNAMA