Tenun Pahang Diraja Felda offers affordable Tenun Pahang Fabric

Last Update: 08/08/2019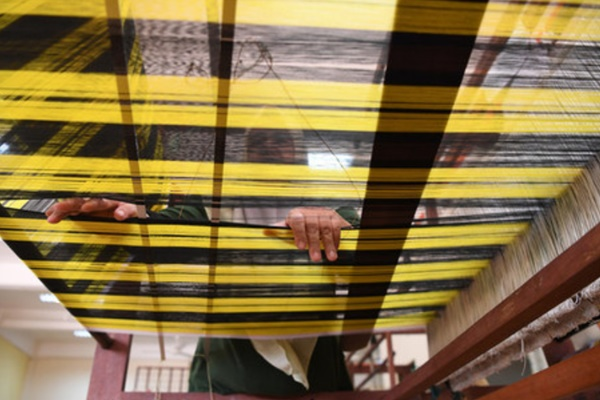 PEKAN, Aug 8 (Bernama) -- It is perfectly understandable that owning Kain Tenun Pahang Diraja (Royal Pahang Woven Fabric) is a dream of many women but only a few can afford the exquisite fabric due to the price tags that can reach up to thousands of ringgit.
However, with the existence of the Tenun Pahang Diraja Felda here, which has been in operation since Jan 1, 2012, the fabric can now be bought at a more affordable price compared to the traditionally produced without compromising the quality.
Datin Seri Razana Fatin Abdullah @ Razali, 45, the wife of Chini assemblyman Datuk Seri Abu Bakar Harun, said the Felda centre offered not only the famous Tenun Pahang (Pahang woven) fabric, but visitors would also be able to purchase other products such as scarves, bags, neckties and gift boxes as souvenir.
"Although Tenun Pahang fabric here manufactured using machines, the premium quality is still maintained... the difference is the use of machines enables the faster process of weaving compared to the traditional weaving process using 'kek' (a type of loom used by weavers) that will take months to complete.
"The centre here also offers a broader range of colours, from pastels to bright, as we want to appeal to different layers of society, on top of the affordable pricing," she told reporters here today.
Razana Fatin was met after accompanying the Raja Permaisuri Agong Tunku Hajah Azizah Aminah Maimunah Iskandariah during Her Majesty's visit to the Tenun Pahang Diraja Felda gallery here today.
The centre was Felda's initiative to commercialise the industry, that previously operated privately by settlers at the Felda Chini 5 multipurpose hall here, using traditional methods, about 15 years ago.
Currently, the centre, located at the Felda Industrial and Recreation Complex here, has six weaving machines and eight looms, with 46 employees, comprising Felda Chini's settlers, in line with the desire to provide employment opportunities for the local population.
Although managed by Felda, Tunku Azizah was kept informed of product development and on Nov 7, 2013, she consented to recognise the centre as Tenun Pahang Diraja Felda.
Razana Fatin said the fabric gained popularity among foreign tourists who visited Chini after Her Majesty selected the Tenun Pahang as the choice fabric to be worn during the installation ceremony of the 16th Yang di-Pertuan Agong at the Istana Negara recently.
According to one of the staff, Azazi Ismail, 38, the centre was able to produce five to six metres of plain fabric in a day or one and a half metres for those with patterns, depending on the complexity (of the patterns).
-- BERNAMA