Air brush painting of Jalur Gemilang on bicycle, Raja Zunaidi's way of showing love for Malaysia

Last Update: 08/08/2019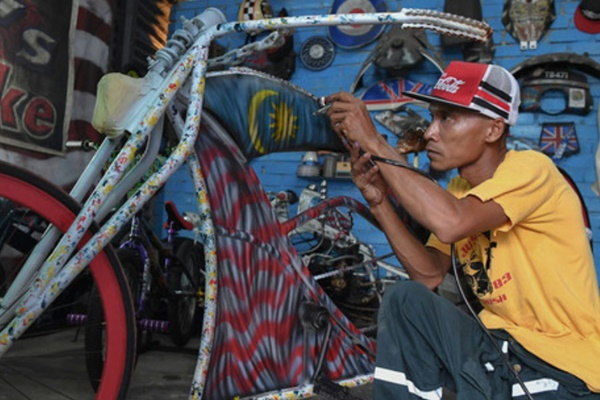 MARANG, Aug 8 (Bernama) -- It is not just talent, but also the fiery spirit of patriotism in Raja Zunaidi Raja Embong that inspires him to use his bicycle as the canvas to draw the Jalur Gemilang.
Using the 'air brush' technique, Raja Zunaidi, 36, expresses his love for the country by spraying his bicycle, which he made from unwanted materials three years ago and modified over the years, with an image of the Jalur Gemilang.
Also known as "Ju Korox", Raja Zunaidi said the bicycle had brought him luck, winning prizes in various competitions since three years ago.
"For the Merdeka celebration this year, I'm going to ride my bicycle, which now has the image of the Jalur Gemilang on it, to all parts of the village, while also carrying the national flag. I want to show, and share the feeling with the villagers, on how proud I am to be a Malaysian and living peacefully in a plural society," he said.
Raja Zunaidi said he took a day to complete the Jalur Gemilang painting on his bicycle.
"This is my contribution to my beloved country, to show my love for Malaysia so that other young people also get to feel the patriotic spirit when they see the Jalur Gemilang painting on the bicycle," he said when met by Bernama at a workshop near Kelulut recently.
On his air brush painting, Raja Zunaidi said he started using the technique by painting images of skulls, butterflies and tigers on motorcycles and cars in 2005 for a small fee.
His latest work was an image of a shark on a boat used for catching squid in Marang, which was viraled on social media.
-- BERNAMA