Duplan-Fribourg, diehl steal spotlight on day 2 of World Waterski meet

Last Update: 14/08/2019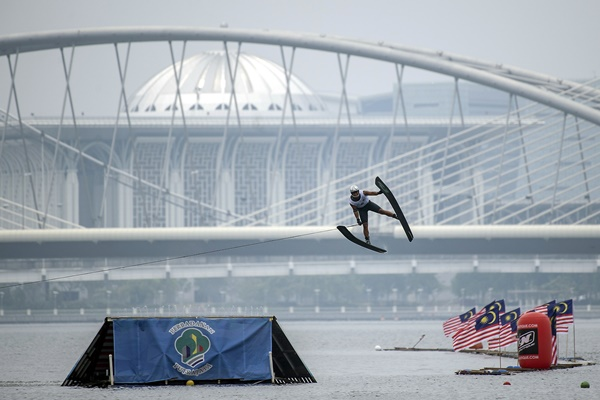 PUTRAJAYA, Aug 14 (Bernama) – The second day of the 2019 IWWF Waterski World Championships ended excellently for Louis Duplan-Fribourg of France in the men's jump preliminary round held at the Water Sports Complex in Putrajaya, today.
The 19-year-old French stole the lime light after he successfully wiped off his personal best of 62.8m with a 63.7m effort, leaving behind teammate, Tanguy Dailland who finished with 60.1m and Marek Mlynek of Slovakia who finished at 58.4m.
However, it was an unfortunate for Asia's slalom champion Chang Tae Ho after he failed miserably when performing in slalom preliminary round.
The 19-year-old South Korean expressed his frustration as he only managed to clear 0.5 buoys at the speed of 58km/h with 18.25m rope length in his pet event.
"Slalom is my favourite and my best event. So I am disappointed since I have trained hard for this championship.
"Today… too much pressure and too much thinking. I've tried to get my start line longer. I usually start with 13m but today I started with 14m (because) I think I want to make sure it was a really smooth slalom," he said when asked on his poor performance today.
The star for today's slalom event went to Morgan Diehl from New Zealand and Mexican's Diego Font after both of them successfully cleared four buoys at the speed of 58km/h with 11.25m rope length, hence making them the top scorers in the fourth series of the preliminary round.
They were followed by Louis Duplan-Fribourg from France and Alexander Samoilov from Ukraine who shared the same spot as both of them cleared two and a half buoys at the speed of 58 km/h with 11.25m rope length.
Meanwhile, in the women's third series of the tricks preliminary round, Eleanor Benjamin of Great Britain secured first place after gaining 4,130 points, leaving behind New Zealander skier, Jaime Metcalfe with 4,120 points and Anna Cespivova of Czech Republic with 3,790 points.
The preliminary rounds started yesterday and ends on Aug 16. Only 12 participants will qualify for the final round on Aug 17 and 18.
-- BERNAMA