King shares fond memories of building housing Pahang Medical Centre

Last Update: 14/08/2019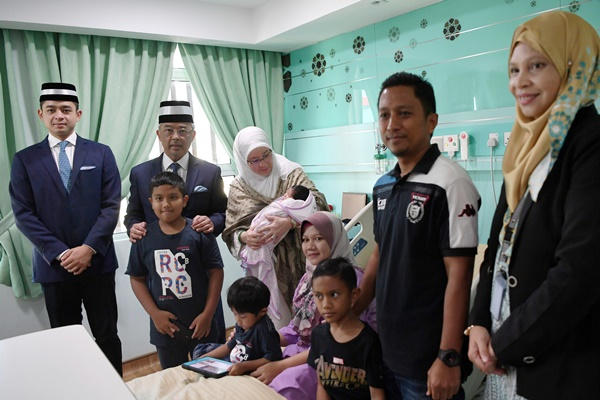 KUANTAN, Aug 14 (Bernama) -- The Yang di-Pertuan Agong, Al-Sultan Abdullah Ri'ayatuddin Al-Mustafa Billah Shah, today shared the fond memories he has of a four-storey building which now houses the Pahang Medical Centre (PMC) in Jalan Gambut here.
According to His Majesty, the building has an aura of its own and, when he steps inside, brings to mind the year 1982.
It was in that year that the building, which now belongs to the Pahang Islamic Religious and Malay Customs Council (MUIP), was built for the use of the Pahang football team or Tok Gajah squad. It was opened by Sultan Abdullah's father, the late Sultan Ahmad Shah.
"The Pahang football team won the Malaysia Cup for the first time in 1983 and the trophy was displayed here for the fans to see. In fact, when my father opened this building in 1984, he was the seventh Yang di-Pertuan Agong.
"Coincidentally, I am here today, also as the Head of State," he said during his visit to the PMC, which is a 64-bedded hospital.
His Majesty was accompanied by the Raja Permaisuri Agong, Tunku Hajah Azizah Aminah Maimunah Iskandariah, and the Regent of Pahang, Tengku Hassanal Ibrahim Alam Shah.
Also present were Pahang Menteri Besar Datuk Seri Wan Rosdy Wan Ismail; Pahang Mufti Datuk Seri Dr Abdul Rahman Osman; MUIP deputy president Datuk Seri Wan Abdul Wahid Wan Hassan; Pahang Health director Datuk Dr Sha'ari Ngadiman and PMC general manager Zuraidah Adnan.
Sultan Abdullah expressed the need for the hospital management to continue to maintain its excellent track record in healthcare.
"We are concerned because the investment in this hospital is huge ... so, I hope the hospital is managed as best as possible. Whatever the task, including that of the Yang di-Pertuan Agong, it must be discharged well because the people evaluate us, what more if it involves hospital service," he said.
PMC general manager Zuraidah, when briefing the royal guests, said the PMC started as a clinic that offered outpatient and maternity services at a shoplot, with MUIP as one of the shareholders, on April 1, 1996.
The clinic was relocated to the building in Jalan Gambut on May 3, 2011, and named Pahang Medical Centre on May 13, 2017.
The PMC is equipped with facilities such as intensive care unit, operating theatre, labour room, diagnostic imaging laboratory and pharmacy and physiotherapy facilities. It also offers outpatient treatment.
-- BERNAMA