PGM gets RM325,000 from MNRB to host golf tournament

Last Update: 16/08/2019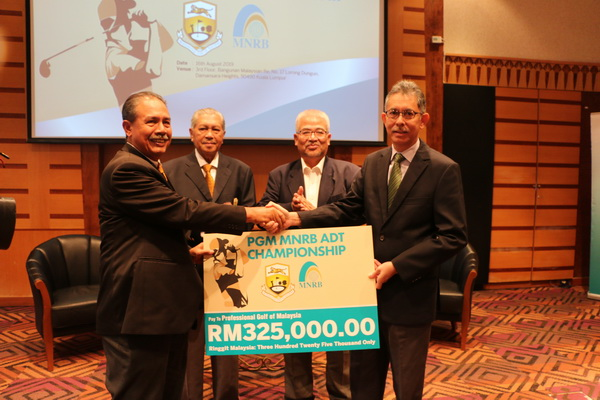 KUALA LUMPUR, Aug 16 (Bernama) -- Professional Golf of Malaysia (PGM) received a shot in the arm after MNRB Holdings Berhad (MNRB) chipped in RM325,000 for the association to host the PGM MNRB ADT Championship from Sept 18-21 at Kelab Golf Sarawak in Kuching.
It will be used as prize money and for organisational expenses for the tournament.
President and group chief executive officer of MNRB, Mohd Din Merican, handed over the sponsorship to PGM Tour general manager Nik Mustapha Nik Mohamed at a cheque presentation ceremony here, witnessed by PGM Tour chairman Tun Ahmad Sarji Abdul Hamid and MNRB chairman Datuk Johar Che Mat.
MNRB has been sponsoring the PGM Tour for the past seven years.
In his speech, Ahmad Sarji thanked MNRB for their continuous support towards an Asian Development Tour (ADT) co-sanctioned event that provides world ranking points to the top six and ties.
"ADT tournaments are important to us because it enables Malaysian players to earn as many world ranking points as possible so that they can improve their position in the Official World Golf Rankings (OWGR).
"As most of the ADT tournaments are held in Malaysia, it will save our players from the expense of travelling to participate in ADT tournaments", he added.
Ahmad Sarji said PGM is hoping to send more Malaysian golfers to take part in the 2020 Tokyo Olympic Games with the help of world ranking points.
Meanwhile, Johar said the reinsurer company will continue with their efforts in promoting and sustaining the development of golf in the country.
"It is important that our own Malaysian players be given a platform to enhance their skills and cultivate the competitive edge needed in order to compete at an international level.
"We believe the PGM Tour would enable them to achieve all that especially with nine tournaments jointly sanctioned with the ADT in the 2019 calendar," Johar added.
The PGM MNRB Championship, the 12th leg on the 2019 PGM Tour calendar, offers Official World Golf Ranking (OWGR) points to the top six contenders and ties as it is co-sanctioned with ADT.
-- BERNAMA