Jalur Gemilang scarf frenzy

Last Update: 18/08/2019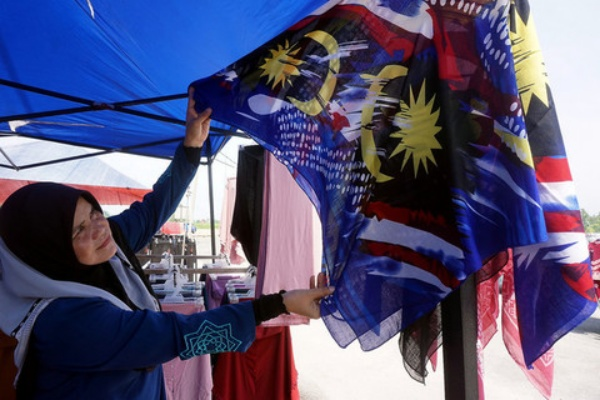 PENDANG, Aug 18 (Bernama) --With the National Day celebrations just two weeks away, demand for Jalur Gemilang themed-scarves has soared, giving scarf entrepreneur Hamidah Husin, the perfect opportunity to rake in profits.
Hamidah, 48, said since Friday about 240 scarves were sold and sales are expected to continue increasing until Sept 16.
"'The Jalur Gemilang 'bawal' scarves are selling like hot cakes as 140 pieces were sold yesterday and another 100 were taken since I opened shop at 9 am today.
"Most of the customers are school teachers and students, and each of them would buy about five pieces as they want to wear them during the school-level National Day celebrations," she told Bernama when met at her stall at Pekan Sehari Pendang here.
Though demand is high, Hamidah said each scarf which has the attractive crescent and star printed on the fabric, is being sold at an affordable price of RM10 per piece.
Meanwhile, teacher Siti Zawiyah Ahmad said she bought the special edition National Day scarf as a demonstration of her love for the country and to promote the patriotic spirit among students in the school.
-- BERNAMA