Boy showcases creativity by making replicas of heavy machinery

Last Update: 20/08/2019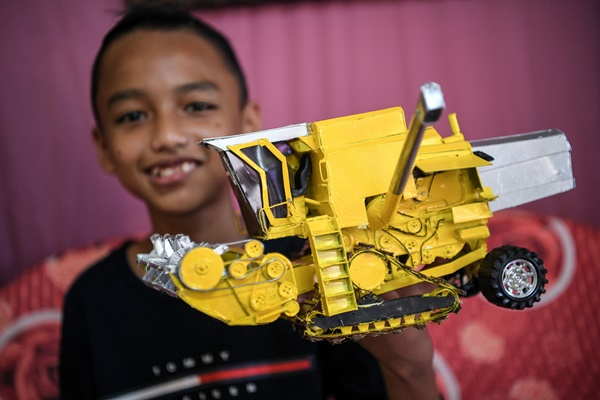 PENDANG, Aug 20 -- A 13-year-old boy from Padang Pusing, here is showing incredible creativity and talent by producing small replicas of various types of heavy machinery and vehicles using shoe boxes.
Muhammad Adam Shakirin Mohd Fuad, a Form 1 student of Sekolah Menengah Maahad Tahfiz Al-Abidin, is not only capable of making motorcycles and lorries from stiff paper, but also heavy machinery such as trailers, backhoe loaders and tractors.
Muhammad Adam Shakirin said his interest was piqued when he saw the paddy machine for the first time several years ago.
"The first time I saw a paddy machine in the field, I fell in love with it and from there came the interest to build a replica, so I went home and looked for shoe boxes before building it without anyone's help.
"Before making a replica, I would look at the design of the machine carefully especially the small and difficult parts like the outside of the engine. Sometimes I ask my mom and dad to find a clearer picture on the website," he told Bernama here today.
Muhammad Adam Shakirin, who aspires to be an engineer, said the shoe box was a key ingredient in building the replicas because it was easy to cut and shape, as well as easy to attach using adhesive and to colour.
He also uses waste materials such as skewers, ice cream sticks, buttons, wires, and plastic to add finesse to the structure.
His passion and creativity are not just for heavy vehicles, he also follows the trend of young people nowadays who love motorcycles like the Yamaha RX-Z, Honda C70 and Yamaha 150 or 'Y-Suku'.
According to Muhammad Adam Shakirin, he never learned how to size or build all of these replicas but instead relied on his imagination and creativity and it only takes him a day to prepare a replica of a motorcycle and three days to produce a replica of a heavy machinery like paddy machine.
Meanwhile, his mother Norin Puteh, 37, said Muhammad Adam Shakirin's interest went back to when he was four-years-old when he often asked to be bought heavy equipment toys.
"When he created a replica of my paddy machine, my husband couldn't believe that it was Adam's own creation, especially at that age," she said.
According to Norin, her son also took the replicas to decorate his classroom at school in conjunction with last year's independence day and his class teacher also did not believe that the replicas were made by Muhammad Adam Shakirin.
'It was not until the end of the school year that the teacher asked Adam to bring the materials to build a replica at the school and he built it in front of them, then only did his teacher acknowledge that Adam was talented," she said.
Norin said so far her son had built about 30 replicas of various types of heavy machinery and vehicles besides a replica of a motorcycle workshop.
-- BERNAMA