Process of public inspection of LRT project begins

Last Update: 20/08/2019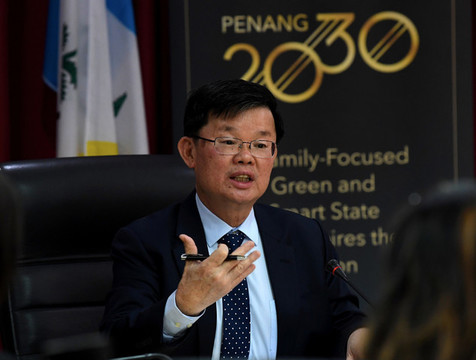 GEORGE TOWN, Aug 20 -- The Penang state government began a three-month public inspection process from yesterday to obtain the views of the people in the state over a Bayan Lepas-Komtar Light Rapid Transit (LRT) construction project approved by the government.
Chief Minister Chow Kon Yeow today said that it was in line with Section 84 of the Land Public Transport Act 2010 which required the government, as the project owner, to begin the process to obtain public feed-back.
''The public inspection until Nov 19 is a requirement before the Bayan Lepas-Komtar LRT project receives the final approval from the Ministry of Transport,'' he told a media conference here.
He said that the public inspection process could be done at four fixed locations during office hours, namely, Komtar, Seberang Prai Municipal Council in Perda, Land Public Transport Agency (LPTA) at One Precinct, here and the LPTA headquarters in Putrajaya.
In addition, mobile booths would also be operational in areas of public foci such as shopping complexes and state transportation hubs, and to date, two were already operational, each in Tesco E-gate and Penang International Airport (PIA) until Sept 21.
Chow said that the mobile booths would operate at the Sunshine Square and Sungai Nibong Bus Terminal on Sept 19-22, before going to Penang Sentral in Butterworth (Oct 6) and Penang Skills Development Centre (PSDC) in Bayan Lepas (Oct 9).
He said that the involvement and feed-back from the public, non-government bodies and stakeholders in the public inspection process to evaluate the project simultaneously mirrored the democratic and open administrative principle of the government.
LPTA, prior to this, fixed 30 conditions that the state government should comply with for the construction of the Komtar-Bayan Lepas LRT alignment, and the first LRT transportation system in Penang, involved a distance of 29.9 km with 27 stations.
The alignment would start at Komtar and would pass through Gelugor, Bayan Baru, Bayan Lepas and PIA before ending at the proposed sea reclamation project in south Penang.
In another development, Chow said that the construction of the Tun Dr Lim Chong Eu Expressway by-pass to Air Itam was expected to commence on Sept 1, denying a news portal's report that the project might experience a delay.
Meanwhile, Chow said the local authority had issued a notice to get clarification from the company tasked with undertaking the Penang Smart Parking (PSP) system, a pioneer project that ran into problems just two days after implementation.
"We want to know what went wrong and how it is going to be rectified," he said.
Apparently the iOS system used by Apple devices can be downloaded for the PSP but not Google Playstore which is applicable to Android devices.
-- BERNAMA